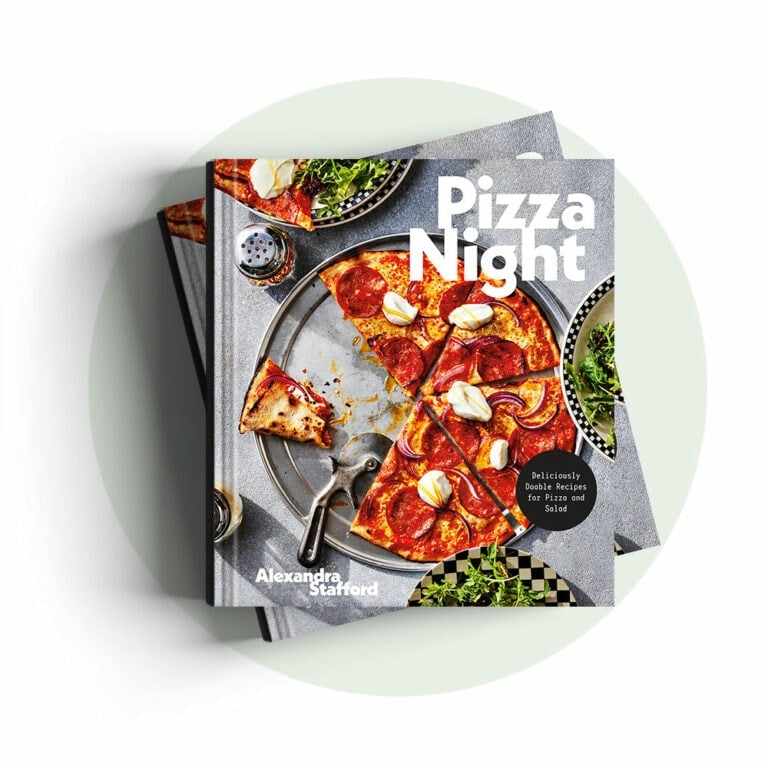 Pizza Night
Deliciously doable recipes for pizza and salad
Pre-Order Now:
---
Pizza Made Simple
Making great pizza isn't complicated. Whether you're using a kitchen oven, a grill, or an outdoor pizza oven, it all starts with the dough.
In Pizza Night, you'll find four simple no-knead dough recipes—thin-crust, pan, Neapolitan-style, and gluten-free (plus sourdough variations)—and easy techniques for perfecting your crust. From there, you can create a variety of delicious pizzas, including Detroit-Style Pizza for a Crowd, Classic Margherita Pizza, Chicago-Style Sausage and Giardiniera, and Grilled Pizza with Figs and Pickled Jalapeños.
Arranged seasonally, each pizza is paired with a salad — Asparagus and Crème Fraiche Pizza aside Fennel and Citrus Salad, for example, and Roasted Hatch Chili Pizza with Corn and Oaxaca aside Melon, Cucumber and Mint Salad — and to end your meal on a sweet note, there are five simple desserts, including a one-bowl chocolate chip cookie recipe that may become your go-to on pizza night or otherwise.
What's in the Book?
4 Simple Dough Recipes
52 Pizza Recipes
52 Salad Recipes
5 Simple Dessert Recipes
Dozens of Recipes for Sauces, Dressings, and Spreads
Order Now!
---