How to Parbake (and Blind Bake) Pie Crust + Foolproof Flaky Pie Dough
This post may contain affiliate links. Please read my disclosure policy.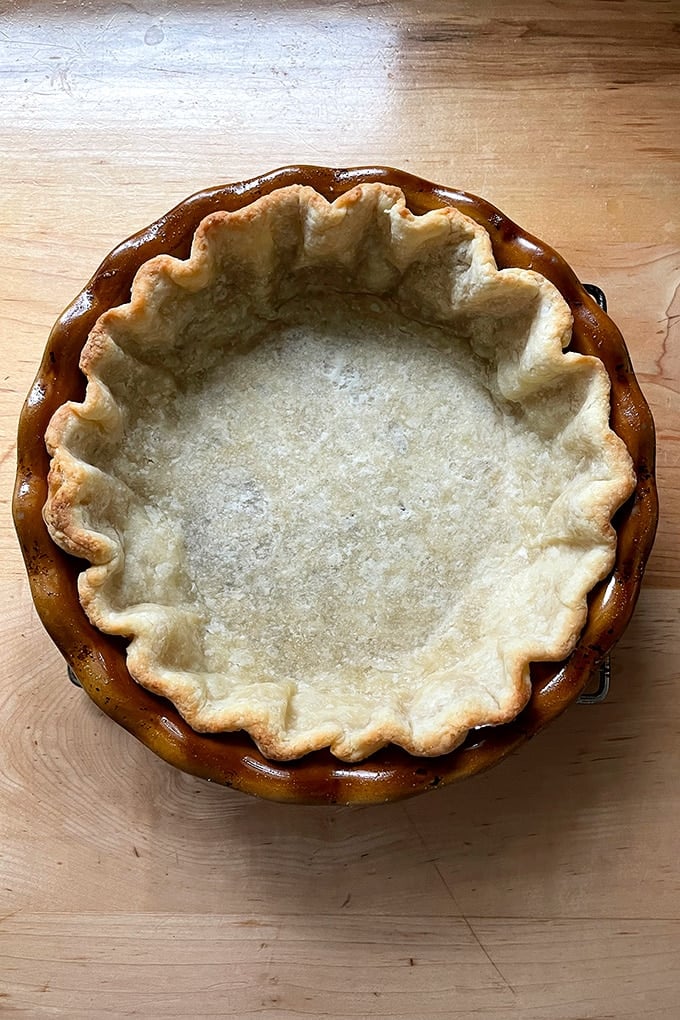 About this time of year last year, Erin McDowell's The Book on Pie made its way into the world. It is a stunning book, overwhelming in its breadth and beauty, a tome filled with recipes and techniques for making any pie your heart desires, a comprehensive guide promising to answer any pie question to have ever crossed your mind.
For me, the big question was: Is parbaking pie crust necessary?
To prevent a soggy bottom, parbaking is a step required of many a Thanksgiving pie, and it's a step I dislike for several reasons, including:
Pie weights are ineffective. Many times I've gone through the effort of filling my pie shell with weights (or dried beans) only to have it shrink as soon as I remove those weights.
Overbaking. While parbaking would indeed ensure a crisp bottom crust, I always found the exposed crust to get overcooked.
My lack of parbaking success over the years has led me to skip the step altogether — to be honest, no one seemed to notice. It also pushed me squarely onto team galette.
But last year, reading through Erin's book, I realized I was doing it wrong: I have been severely overbaking my parbaked pie crusts. On page 46 of the book, a photo depicting a correctly baked, underbaked, and overbaked parbaked pie crust showed me my error: the bottom of a correctly baked parbaked crust should be barely toasted, mostly blonde with the faintest hint of brown; the edges should be lightly golden.
Erin's method calls for baking the pies with weights (or dried beans) for 15-17 minutes and for just 2 to 3 minutes more without the weights. I had never seen such a short time frame for parbaking, but I tested the method on my favorite Thanksgiving pie, Ronnie Hollingsworth's most excellent squash pie, and the method worked beautifully! Do you see how nicely golden but not overly so the crust looks?: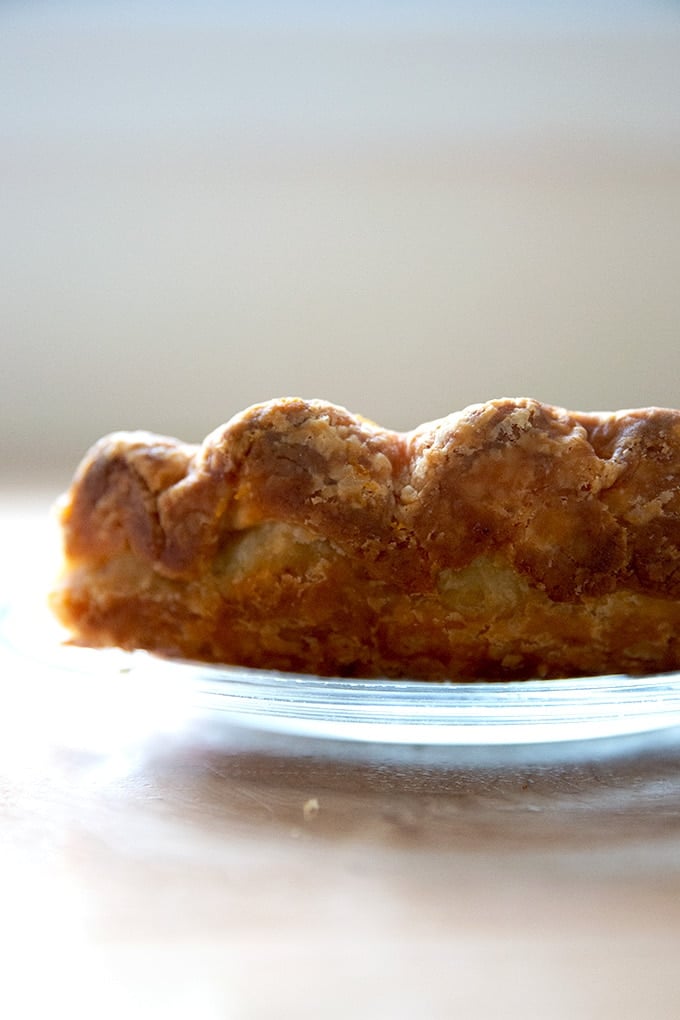 Friends, I am so excited to have this piece of the pie (ha!) resolved. But this is not all I've learned. Let me share a few more findings.
The Importance of Chilling Your Pie Dough
After you make your pie dough, you should let it rest in the fridge for at least 30 minutes or better, one hour, before you roll it out. Why? For two reasons:
As noted in The Book on Pie: "If your dough isn't chilled enough at this stage, the fat will be soft and likely to smush into the dough during rolling, resulting in a shorter, crumblier texture rather than the desired tender, flaky effect."
Moreover: Chilling the dough after mixing makes it easier to roll out. This is because chilling allows the natural protein stands (i.e. the gluten) that form when flour is hydrated to soften and relax, making the dough easier to roll out.
Why You Shouldn't Freeze Your (Rolled-Out) Pie Dough
Although pie dough freezes beautifully in portioned discs, once you roll it out and fit it into your pie plate, you shouldn't freeze it. This is because:
"Freezing can mess with the way fat acts in the oven. While you do want dough to be cold, if it is baked from frozen, it may take a while for the butter to soften and thus delay the flaky puff-up effect that occurs when the dough hits the oven heat. This can lead to the butter melting out of the crust, making a greasy and/or smoky mess in your oven and a tough crust."
I tested this theory by baking one shell immediately after rolling it out and one I had frozen for 24 hours. I had suspected that the frozen one would hold its shape better, but I was wrong! It actually shrunk more, and, as Erin noted, made a smoky mess in the process because the butter melted out of the crust.
Two Parbaking Tips
Do not bake pies directly on the rack — butter will seep out and when it hits the oven floor (or Baking Steel), it will make a smoky mess. Instead, place your pies on sheet pans and use parchment paper, if you wish, for easy clean up.
If you have a Baking Steel or pizza stone, use it. Because Steels and stones retain heat well, they encourage proper and even browning on the bottoms of pie. They also help keep the oven temperature's even as you open and close the door to check on your pie.
---
Friends, there are a few photos below, but I think the video will be most helpful here. It starts with my favorite foolproof food processor pie dough recipe, which employs a tea towel trick I learned from a French woman years ago, and ends with a parbaked shell.
As noted in my Thanksgiving Menu 2022 post, this year I'll plan on making my pie dough the Tuesday before Thanksgiving, rolling it out and parbaking the shells on Wednesday, and filling and baking the pies first thing Thursday morning. 
I cannot wait. I truly love nothing more than waking at the crack of dawn on Thanksgiving morning, tying my apron, brewing the coffee, and tackling all of the day's to-dos. Hope you do, too. If you have any parbaking wisdom to share, please do.
---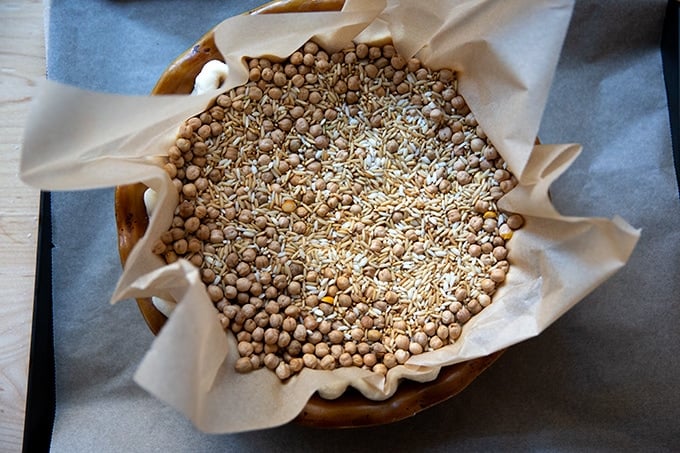 Above: This pie shell is about to enter the oven. Note: You can save those dried beans and use them again and again: let them cool; then stash them in a Ziplock bag.
Below: This is a just-baked parbaked pie crust.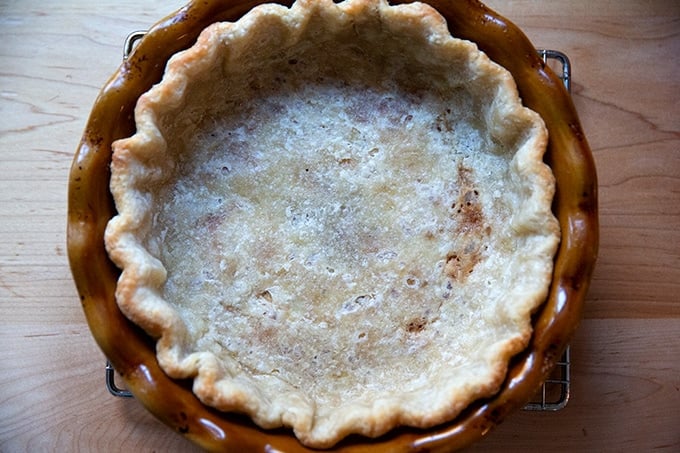 This is Ronnie Hollingsworth's Most Excellent Squash Pie, which I made with a can of pumpkin purée in place of the roasted squash for this recent experiment. It was good, but I missed the squash.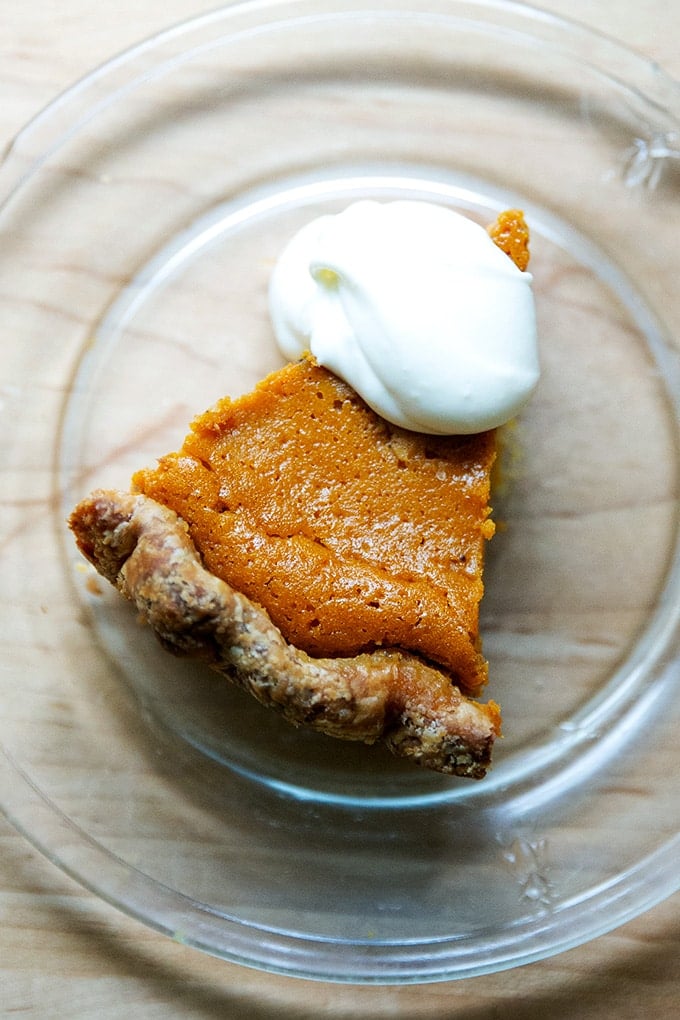 Can you see how flaky the crust is?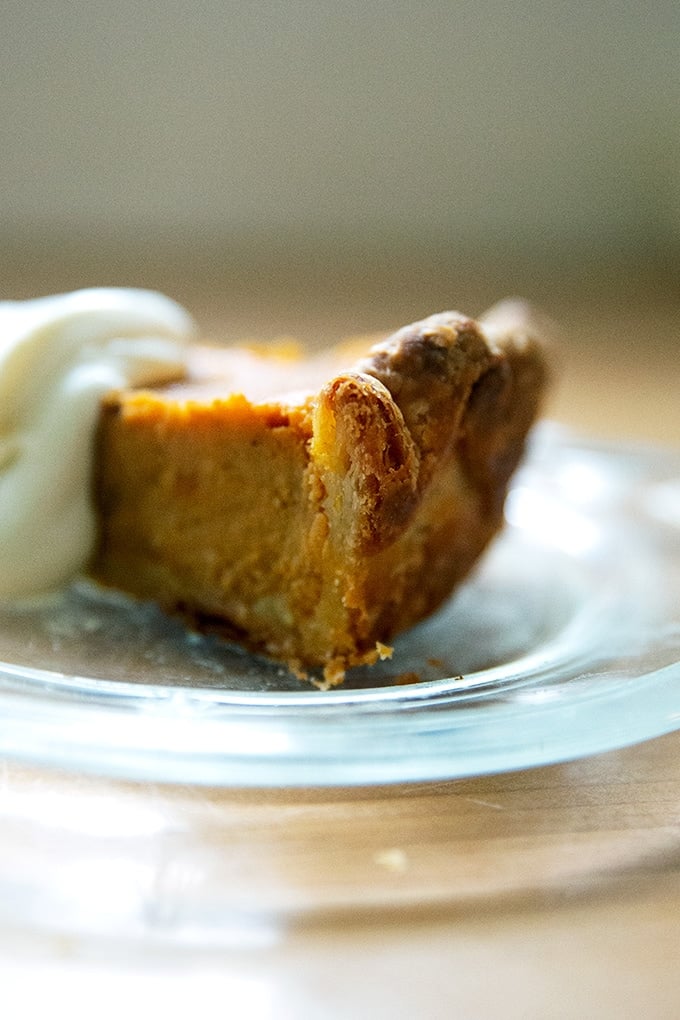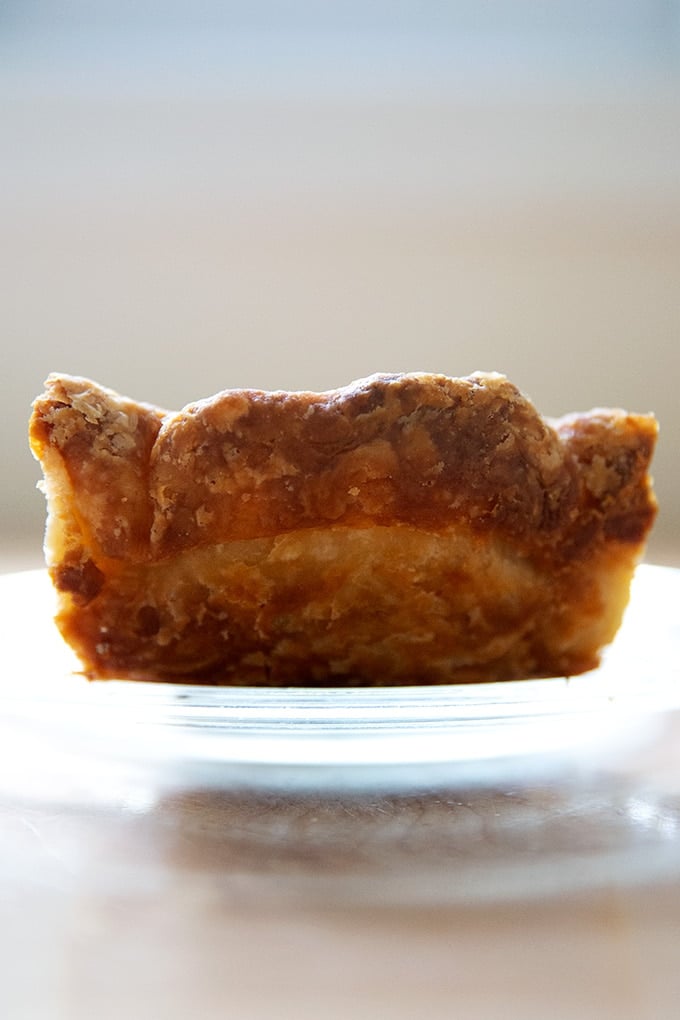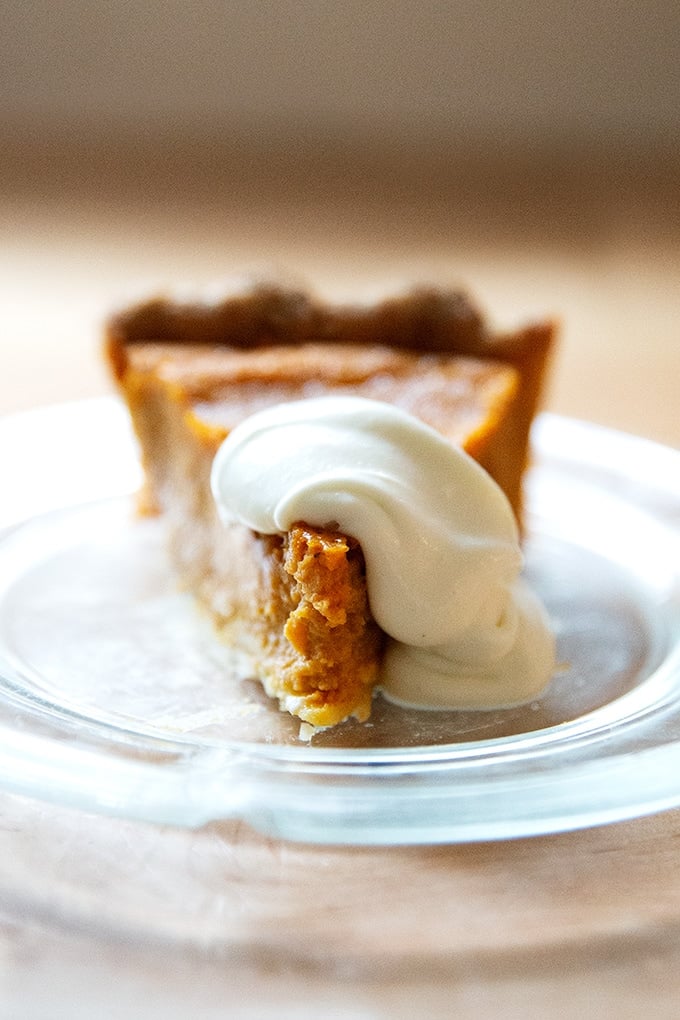 Print
How to Parbake (and Blind Bake) Pie Crust + Foolproof Flaky Pie Dough
---
Description
This is the pie dough recipe I use for every tart, pie, galette I make. In this recipe and video, I show how to make the pie dough as well as how to parbake and blind bake it. Parbaking is a step that ensures the bottom crust of your pie will not be soggy. Here are a few recipes that benefit from a parbaked crust:
Notes:
Dough can be made up to three days in advance and stored in the fridge or made weeks in advance and stored in the freezer. To thaw, place dough in the fridge overnight before baking.
To make a double batch: do not load your food processor with double quantities. Make the dough in separate batches — no need to wash the food processor in between batches.
Favorite Pie Plate: I swear by my ceramic Emile Henry 9-inch Pie Plate.
Once you parbake your pie shells, let them cool completely; then store in an airtight vessel or bag — an XLarge Ziplock works well. Store at room temperature for up to 3 days. 
---
2½ cups

(

320g

) all-purpose flour

2 tablespoons

(

25 g

) sugar

½ teaspoon

(

3 g

) kosher salt

16 tablespoons

(

227g

) unsalted butter, cut into small pieces and chilled

½ cup

+ 2 tablespoons (

142g

) ice water
For baking and storing:
pie weights or dried beans/rice — I always use dried beans/rice. You can store them in a Ziploc and use them again and again. 
parchment paper
Jumbo Ziploc — the 2-gallon size
---
Instructions
In the bowl of a food processor, pulse the flour, sugar, and salt together. Add the chilled, cubed butter. Pulse at 1-second intervals until butter is the size of peas — should be about ten 1-second pulses. Add the ice water and pulse again about 10 times until the mixture is crumbly but holds together when pinched. (To make without a food processor: In a large bowl, whisk flour, sugar, and salt together. Add the butter to the flour mixture, and using the back of a fork or a pastry cutter, incorporate it until it is in small pieces. Add ice water and continue to stir with a fork until mixture is crumbly but holds together when pinched.)
Lay two clean tea towels on a work surface. Dump half of the crumbly dough mixture into the center of each. Grab the four corners of the towel together and twist to create a beggar's purse, pressing the dough into a round. Use your hands to pack and flatten the round. Wrap in plastic wrap or parchment paper, place in ziplock or other airtight bag/vessel, and stash in the fridge for at least 30 minutes, but ideally 1 hour or for as long as 3 days. You also can store it in the freezer for as long as 3months.
To parbake or blind bake the pie crust: Heat your oven to 425ºF. If you have a Baking Steel or pizza stone, place it on a rack in the lower third of your oven. On a lightly floured work surface, roll out one of the chilled rounds of pie dough, flipping the round over every few strokes, until you have a circle roughly 15 inches in diameter — the thickness should be about that of a Ritz cracker — learned this visual tip from King Arthur Flour. 
Transfer the round to a pie plate. Trim any excessive overhanging pie dough — there should be roughly 1/2 inch of dough overhanging the edge. Save the scraps in an airtight container in the fridge. Tuck the overhanging dough behind itself; then use your fingers to crimp the edge into a fluted pattern — video guidance here. Lay a sheet of parchment across the pie plate and pour pie weights or dried beans into the center until they reach the top of the pie crust. Use your hands to press the weights down and fit them into the edges of the fluted crust.
Transfer the filled pie crust to a parchment-lined sheet pan and transfer to the oven for 15-20 minutes or until the edges are just beginning to color — do rely on the visual cues here. It sometimes takes my crusts a little longer to take on that light color at the edges.
Remove the pan from the oven and carefully remove the pie weights or dried beans (which you can use again and again — let them cool completely; then transfer to a storage bag). Return the pan to the oven. For a parbaked crust, bake the shell for another 2 to 3 minutes — it should take on only the slightest bit of more color all around. For a blind-baked crust, return the shell to the oven for another 10 to 12 minutes or until the crust is evenly golden brown. 
Once you parbake or blind bake your pie shells, let them cool completely; then store in an airtight vessel or bag — an XLarge Ziplock works well. Store at room temperature for up to 3 days. From here, proceed with whichever pie recipe you are making. I use this pie crust for every pie I make. See notes above. 
Prep Time:

1 hour

Cook Time:

25 minutes

Category:

Dessert

Method:

Food Processor, Oven

Cuisine:

American, French
Keywords: parbake, blind bake, pie, crust, flaky
This post may contain affiliate links. Please read my disclosure policy.