Simple White Bean Salad
This post may contain affiliate links. Please read my disclosure policy.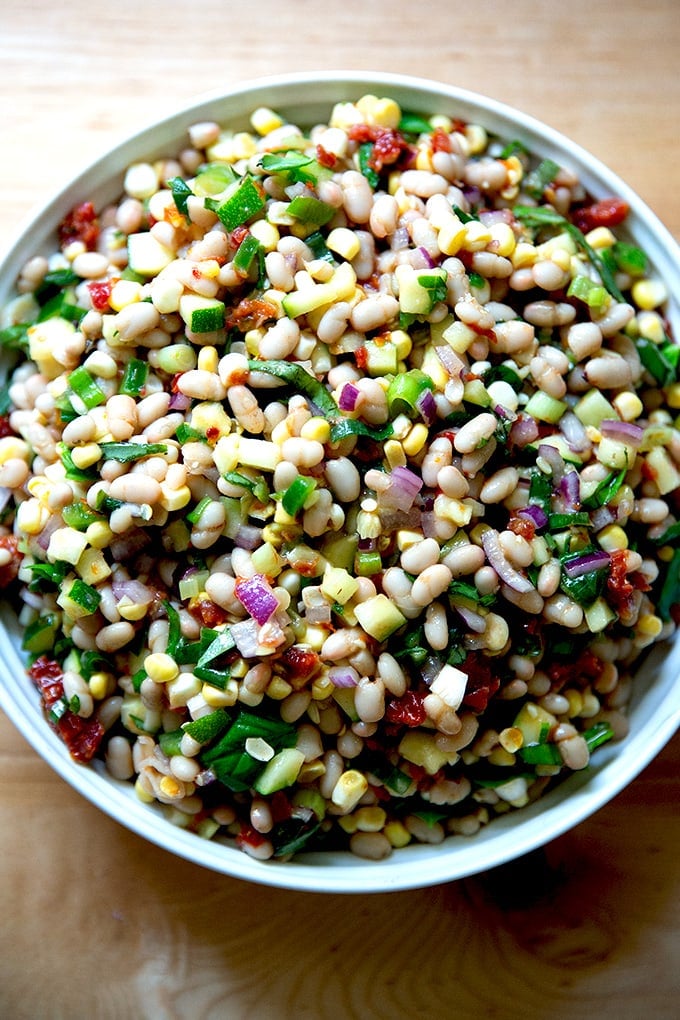 A few weeks ago, my friend Sandy texted me a recipe for a white bean salad. She told me she had been making it for her grandchildren and thought my kids would like it, too.
The recipe called for making a simple dressing, a mix of diced sun-dried tomatoes, vinegar, salt, olive oil, and a splash of the sun-dried tomato-infused oil from the jar. From there, you add two cans of beans, diced red onion, fresh basil, and Manchego cheese.
It sounded simple enough, so I gave it a go, adding some vegetables I had on hand: fresh corn, diced raw zucchini, sliced scallions, and a minced jalapeño.
The combination of the vegetables with the beans, herbs, and the bright, acidic dressing almost pushed the salad into salsa territory. I found it addictive, and as I tasted it, seasoning it with more salt and vinegar until it tasted just right, I kept wondering: When and why did I stop using sun-dried tomatoes?
The fresh summer produce of course brings lots of flavor and texture here, but it's the dressing — the deep concentrated tomato flavor, both sweet and tangy — that makes this salad.
Friends! I'm excited. This time of year I'm always looking for simple, make-ahead salads to pull out at the dinner hour. This one is just that, and I think it's something I'll build on as the months go on, changing it based on the season and what's available: fresh cherry tomatoes, blistered poblano peppers, roasted sweet potatoes and red onions. The possibilities are endless.
I can't wait to see where you take this one.
How to Make a Bean Salad, Step by Step
First, gather your dressing ingredients: olive oil, white balsamic (or other vinegar), sun-dried tomatoes, salt, and garlic.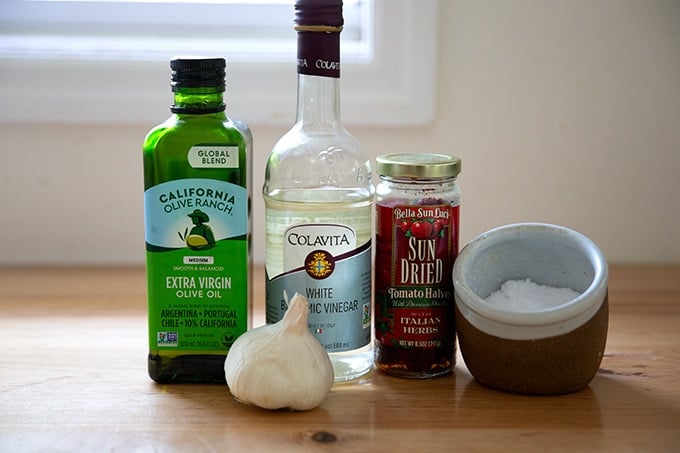 Combine all of the ingredients in a bowl, then whisk to combine.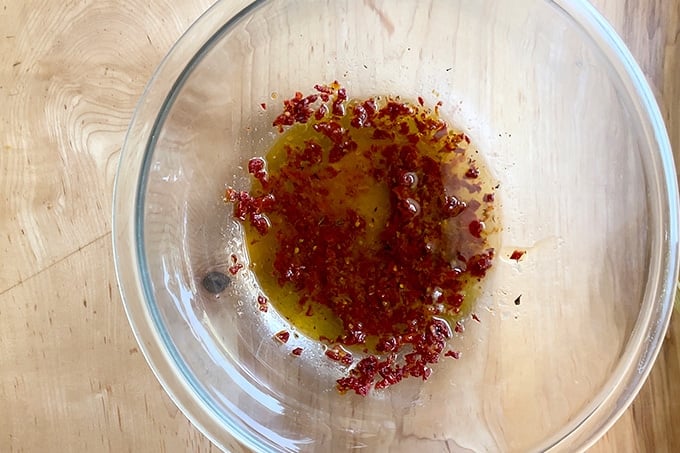 Then gather the other ingredients: white beans, red onion, corn, jalapeño (optional), and zucchini.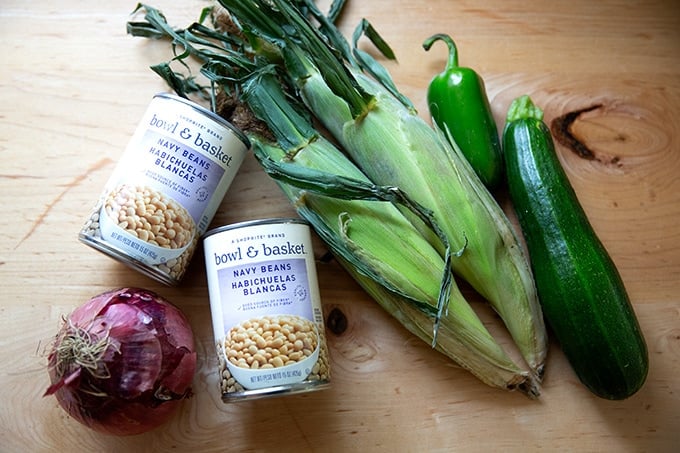 Dice the zucchini — no need to cook it.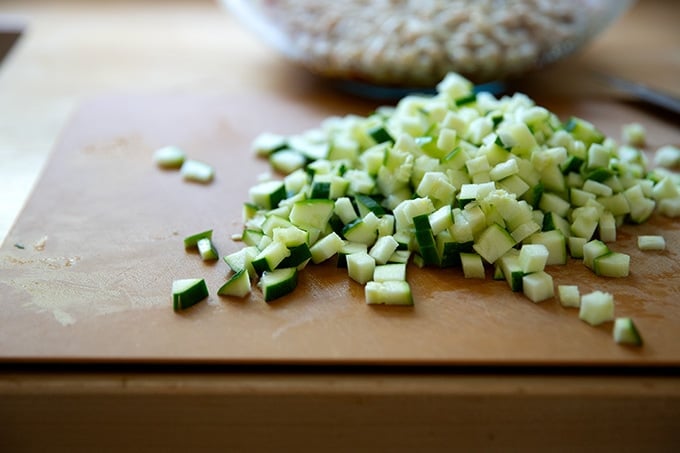 And remove the corn from the cob: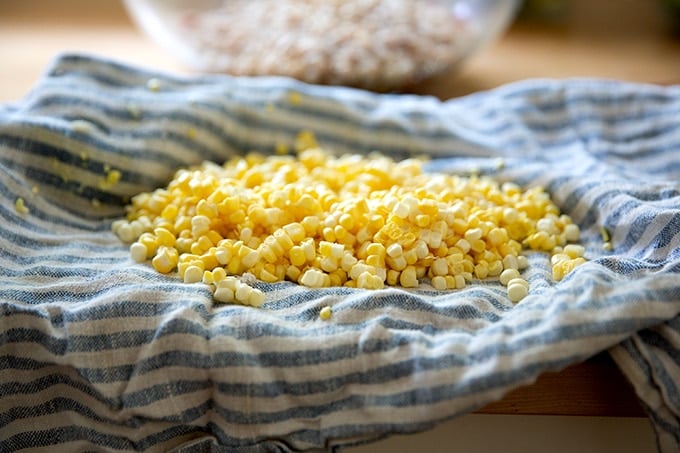 Gather some herbs. The original recipe calls for basil, which I think works beautifully here, but if you have a ton of parsley on hand, it would work well here, too. I love scallions in these sorts of salads, so I've been adding them here, too.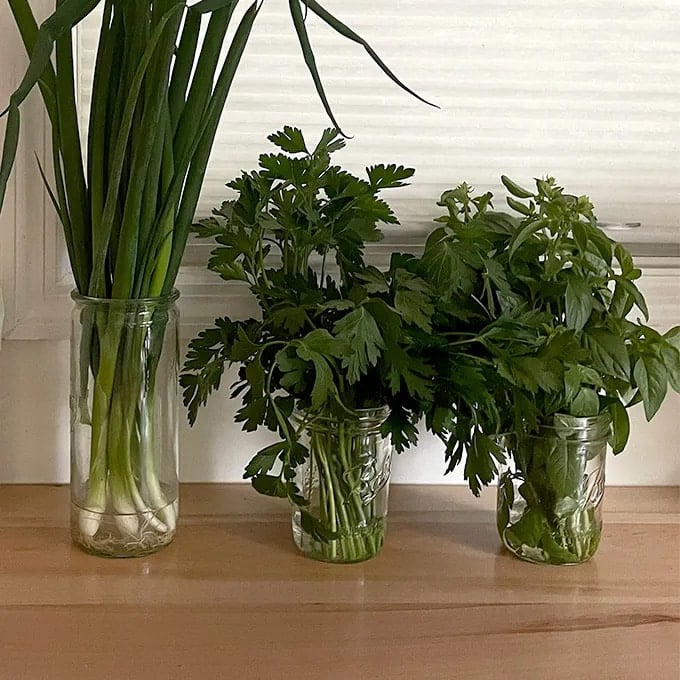 Drain and rinse the beans, then…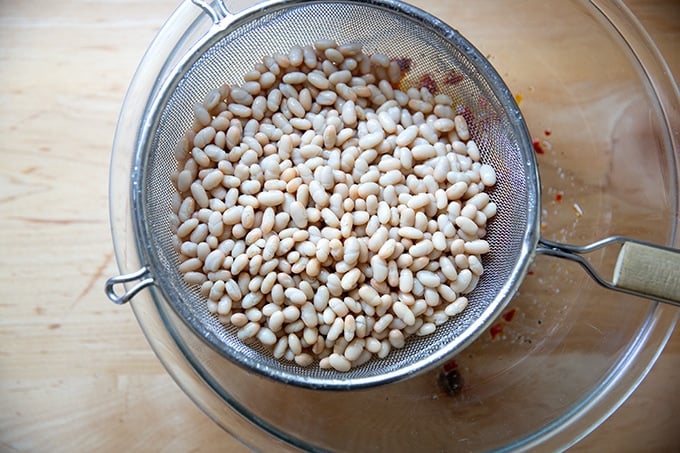 … drop them into the dressing.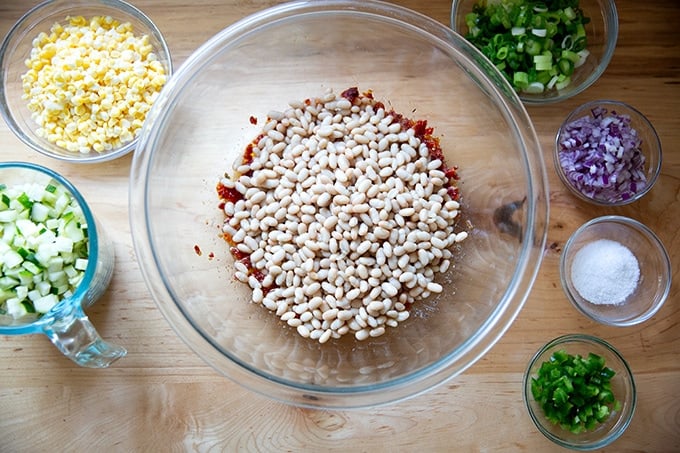 Season the beans generously with salt, then add the other ingredients and…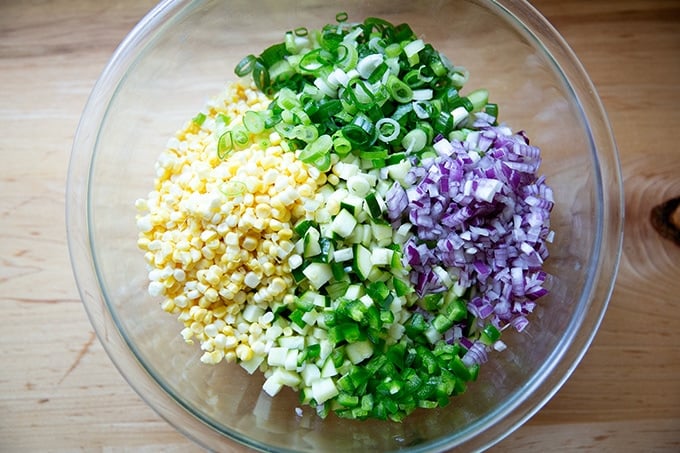 … toss to combine. Add the chopped fresh basil or parsley.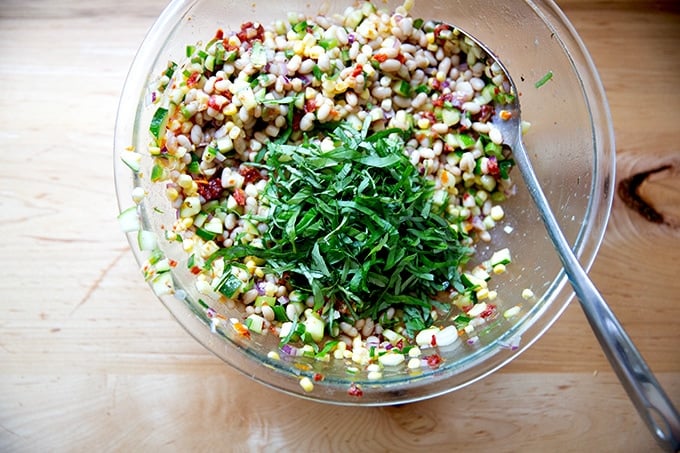 Toss again. Taste, and adjust as needed with more salt, vinegar, or oil to taste.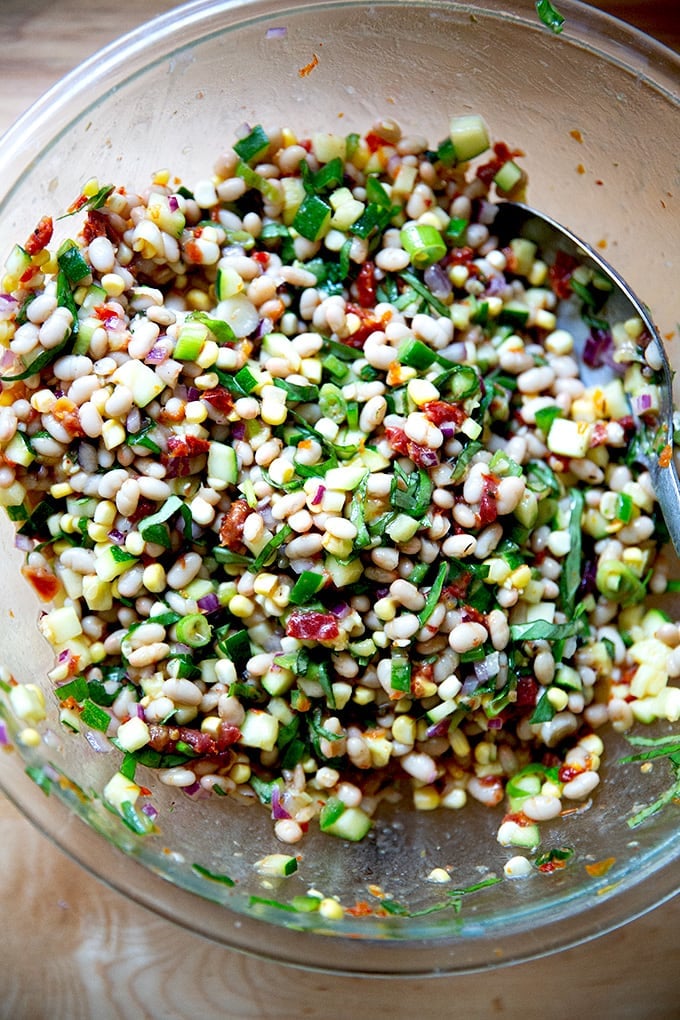 Serve immediately…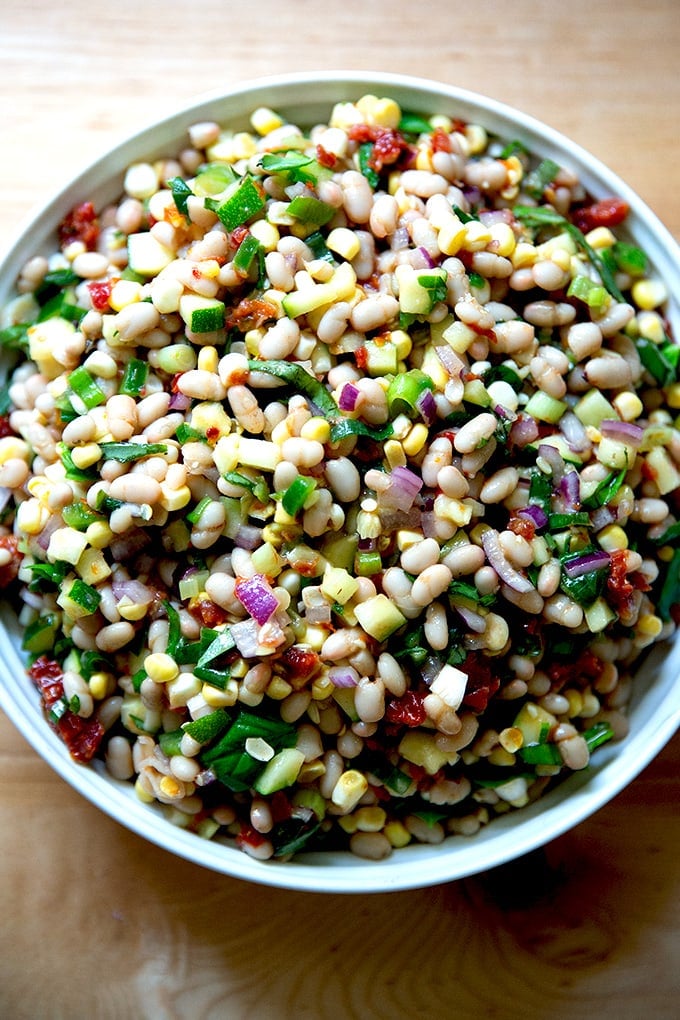 … or pack into storage containers for the week ahead. This salad gets better as it sits, so don't be afraid to make it ahead of time.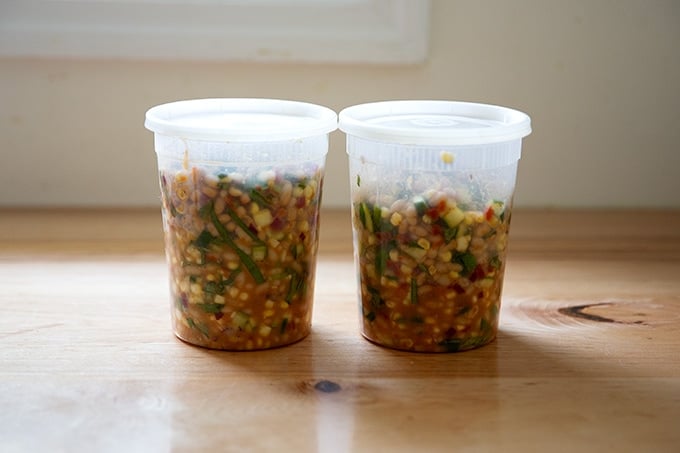 Print
Simple White Bean Salad
---
Description
Adapted from a recipe my friend Sandy sent to me.
Notes:
Beans: As recommended by my friend Sandy, I've been buying small white beans, often labeled as habichuelas blancas — they're smaller than Great Northern, Cannellini, and some varieties of Navy beans (as far as I can tell). 
Salt: I use Diamond Crystal. If you are using Morton, you may need to use less. Start with 1 teaspoon, and add more to taste. 
Cheese: The original recipe calls for diced Manchego cheese, but I find I like it just as much without any cheese. If you like the idea of cheese here, however, add 1/2 to 1 cup of small-diced cubes of Manchego or other cheese. 
---
1/3 cup

sun-dried tomatoes, oil-packed, finely diced +

2 tablespoons

of the oil from the jar

1

clove garlic, finely minced or grated on a microplane
kosher salt, see notes

1/4 cup

white balsamic vinegar, plus more to taste

1/4 cup

extra-virgin olive oil 
two

15

-oz cans of small white beans, see notes, drained and rinsed

2

ears corns, shucked

1

small zucchini, finely diced to yield 2 cups

1/2 cup

finely diced red onion

3

to

4

scallions, thinly sliced to yield 1 cup

1

jalapeño, seeded and finely diced, optional
fresh basil or parsley, finely chopped to yield 1/2 to 1 cup
---
Instructions
In a large bowl, whisk together the sun-dried tomatoes, garlic, and vinegar with a pinch of salt. Add the olive oil and the 2 tablespoons of sun-dried tomato oil and whisk to combine. 
Add the drained and rinsed white beans and season with 2 teaspoons of kosher salt. 
Strip the kernels from the cob: Line a large, wide bowl with a kitchen towel. Use one hand to hold an ear of corn in place upright atop the kitchen towel, and with your other hand, use a chef's knife to cut off two to three rows of kernels at a time by sliding the knife down the cob. 
Add the corn to the bowl along with the zucchini, red onion, scallions, and jalapeño, if using. Toss to combine. Taste and adjust with more salt and vinegar to taste. I consistently have been adding another tablespoon of vinegar and a pinch more salt, too. 
Add the fresh herbs, toss one last time, and serve immediately or pack into storage containers. Store in the fridge for up to 1 week. 
Prep Time:

30 minutes

Category:

Side Dish

Method:

No-cook

Cuisine:

American
Keywords: white beans, sun-dried tomatoes, olive oil, corn, zucchini, basil
This post may contain affiliate links. Please read my disclosure policy.