How to Make Homemade Rye Bread
This post may contain affiliate links. Please read my disclosure policy.
Made with a mixture of bread and rye flours, a small amount of honey, and a few teaspoons of caraway seeds, this simple no-knead rye bread tastes beautifully tangy with a hearty, chewy texture perfect for sandwiches or toast. It comes together in no time and bakes in a single loaf pan, but the recipe can be doubled, and the baked bread freezes very well.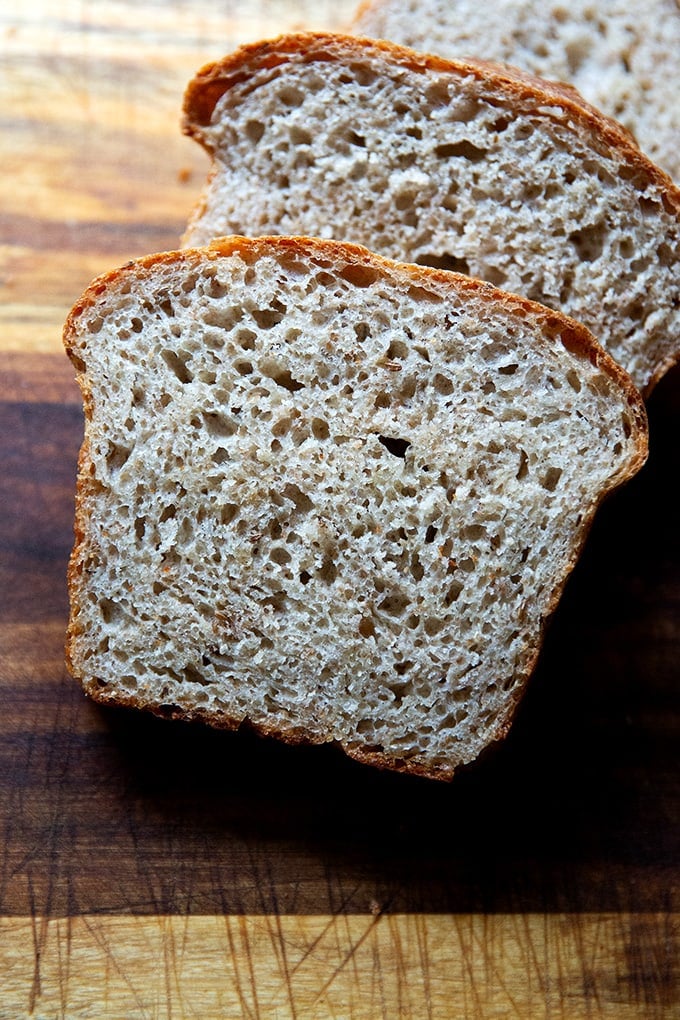 Rye bread has a reputation of being dense and heavy as well as aggressively sour in flavor. While some people love these qualities, others, understandably, do not. I love a rye bread with a subtle tang and a hearty but not leaden texture.
This no-knead rye bread is just that: made with a mixture of bread and rye flours, the texture of the finished loaf is light enough for a sandwich but makes excellent toast as well. A small amount of honey balances out the sourness and lends a nice chew, while caraway seeds, which can be left out, impart subtle notes of citrus and anise.
This recipe calls for 1 cup of rye flour and 3 cups of bread flour, and while you could play around with increasing the proportion of rye in this recipe (which is roughly 20% by weight), keep in mind that the more rye flour you use, the denser your bread will be. Why? Because rye flour is different than wheat flour in a number of ways, namely:
Higher in Bran and Minerals: Flour with a high amount of bran and minerals will produce bread that is lower in volume because the sharp shape of the bran cuts the gluten network.
Different Proteins + High in Pentosans: Wheat flour contains two gluten-forming proteins: glutenin (which promotes elasticity) and gliadin (which promotes extensibility). When these proteins mix with water, gluten begins forming. Rye flour on the other hand contains gliadin and a protein called glutelin (similar to glutenin). It also is high in pentosans (a polysaccharide composed of carbon sugars). The pentosans absorb water and compete with the gliadin and glutelin for moisture, which inhibits the development of gluten in rye breads.
Got all that? I'm still processing it. It comes from Jeffrey Hamelman's Bread, which is a great resource if you like to understand the science behind bread baking. I have to confess I have never made a recipe from the book, and I pull it out seldomly but when I do, I always find the answer I am looking for (and more!).
Homemade Rye Bread, Step by Step
This recipe calls for a mix of rye flour and bread or all-purpose flour. I'm using Zingerman's freshly milled rye flour.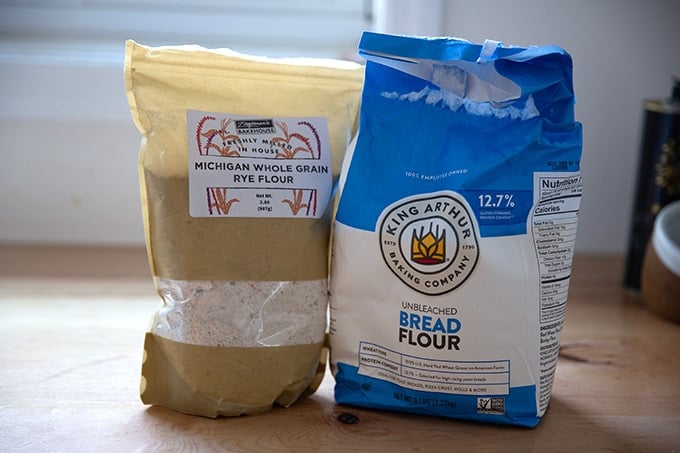 The Importance of Using a Scale
I was curious as to how much 1 cup of this particular rye flour would weigh, so I set my measuring cup on the scale and spooned in as much flour as I could without it spilling out.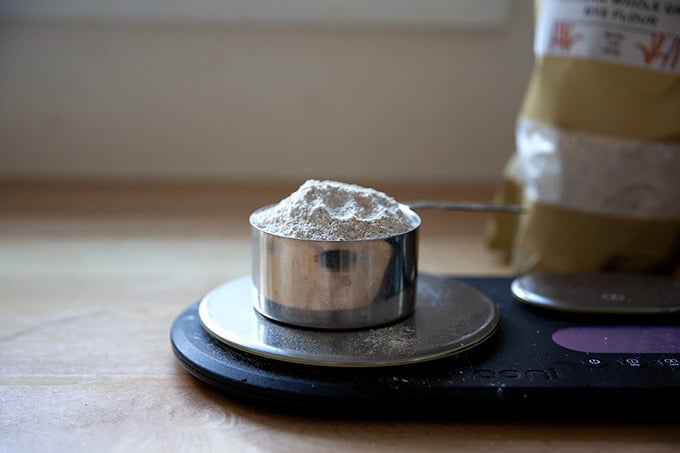 I was able to get 96 grams of flour in without spilling, then I gently shook the cup…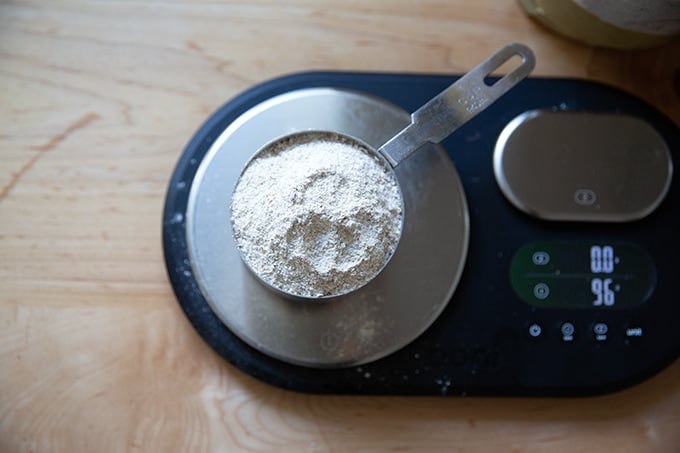 … which brought the flour down to just below the rim of the measuring cup. This is an example of why it is so important to use a scale. Depending on how we measure, 1 cup of flour can vary dramatically in weight.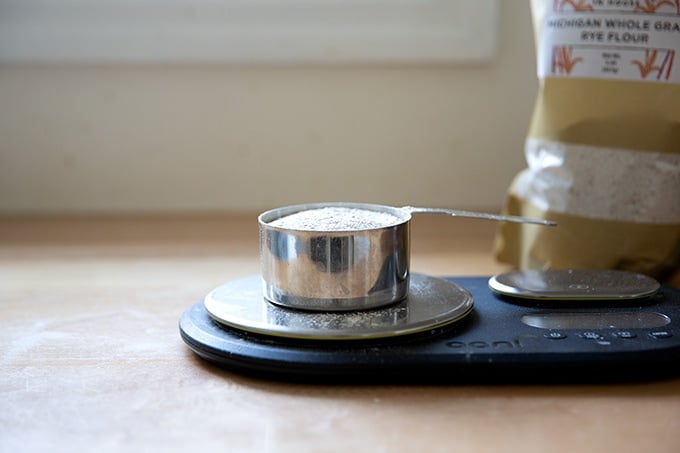 Once you have your ingredients measured accurately…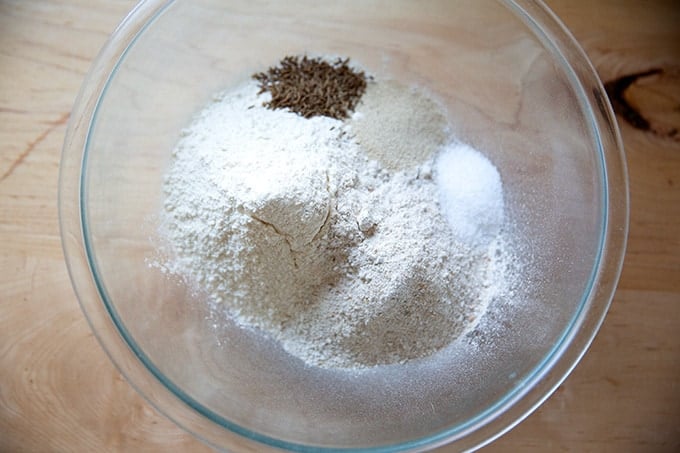 whisk together the flours, salt, instant yeast, and caraway seeds, if using.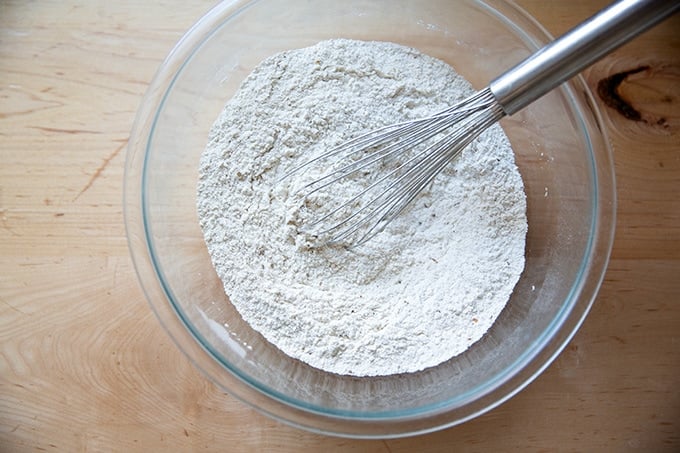 Whisk together the water and honey until the honey dissolves, then add the mixture to the bowl, followed by the oil.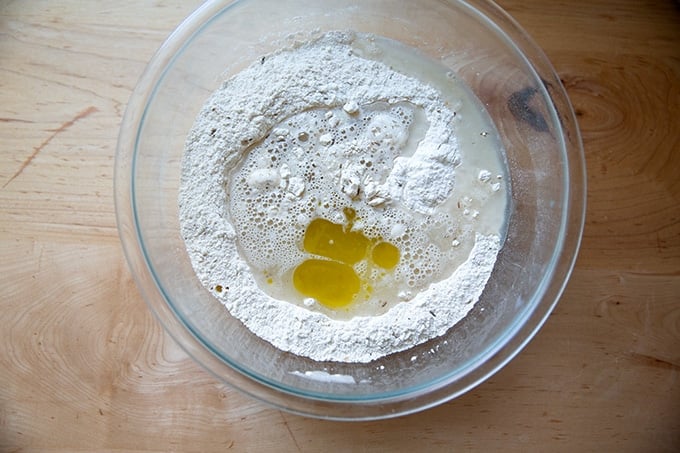 Stir with a spatula until you have a sticky dough ball.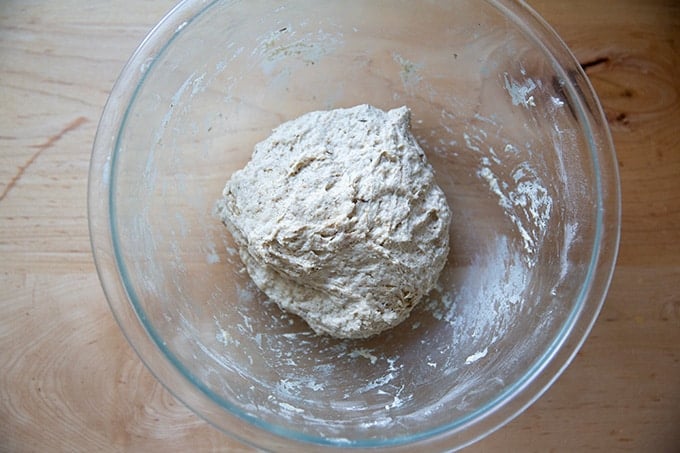 Cover the bowl and let rise until doubled, 2 to 3 hours.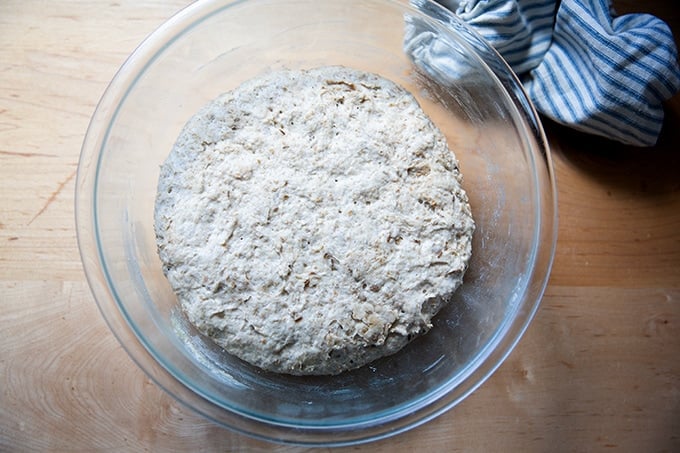 Rub the surface of the dough with a tablespoon of oil, then deflate the dough.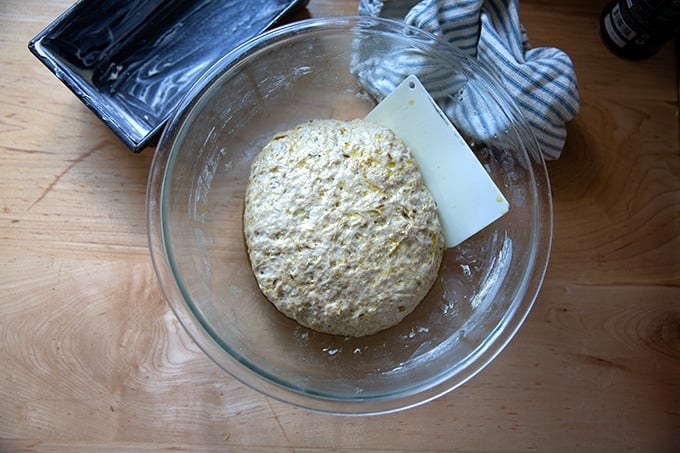 Turn the loaf over, then roll into a loaf shape.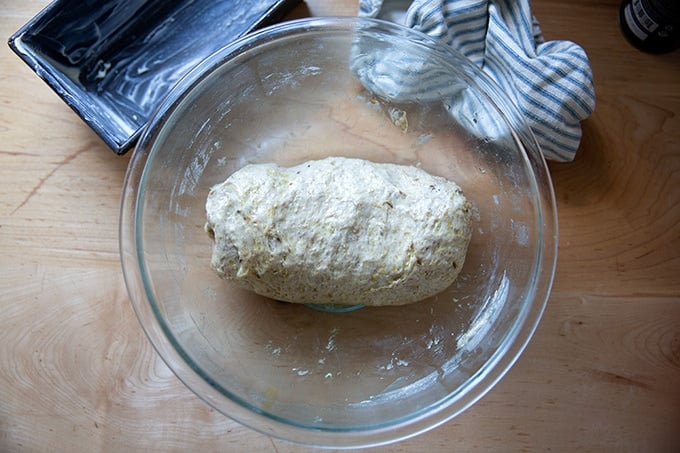 This video may help:
Transfer to a buttered 8.5×4.5-inch or 9×5-inch loaf pan.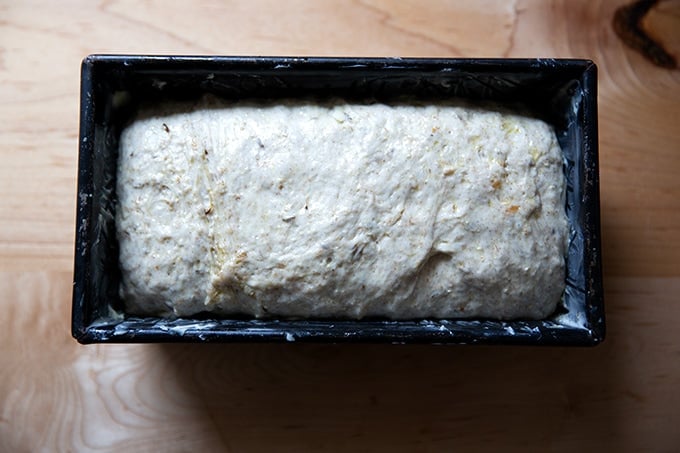 Let rise until the dough crowns the rim of the pan by about an inch.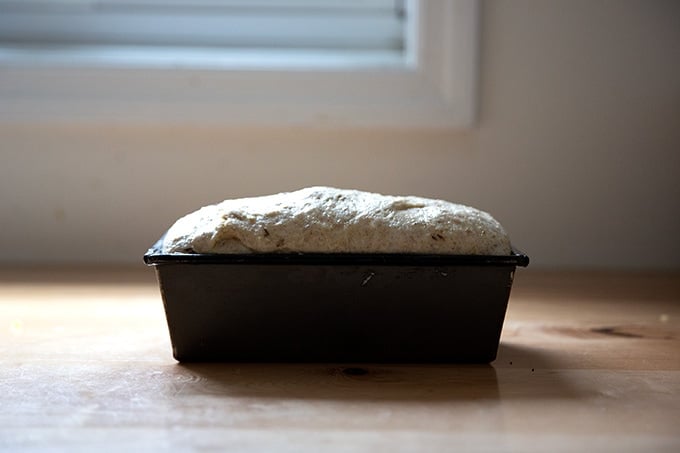 Bake for 45 minutes at 375ºF.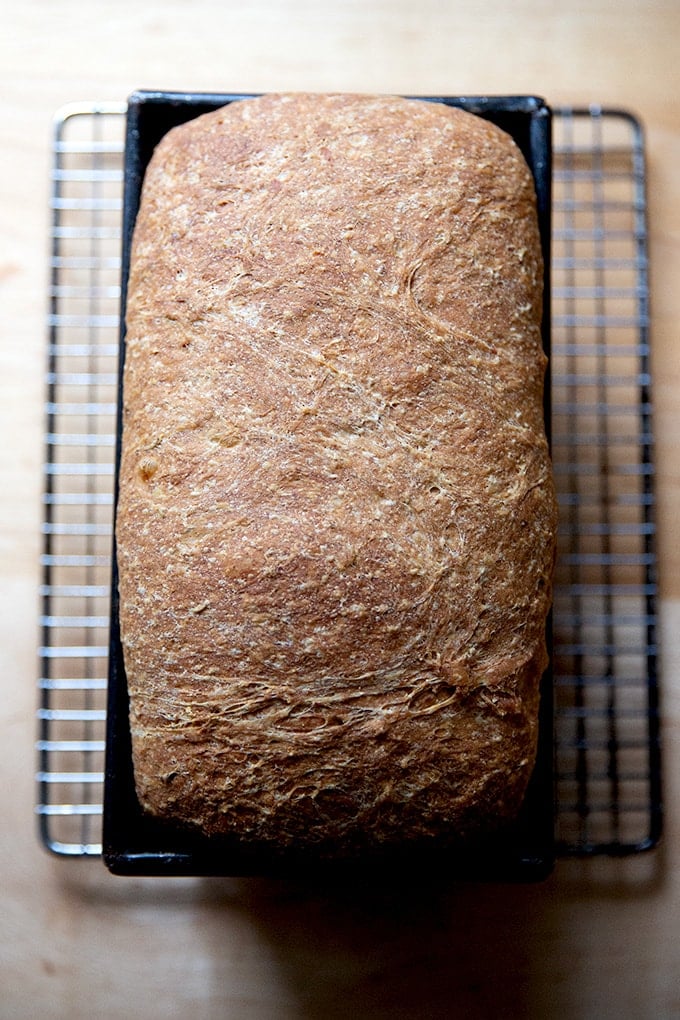 Let cool for at least 30 minutes before slicing. I like to slice it, then freeze it in bundles of 3 to 4 slices.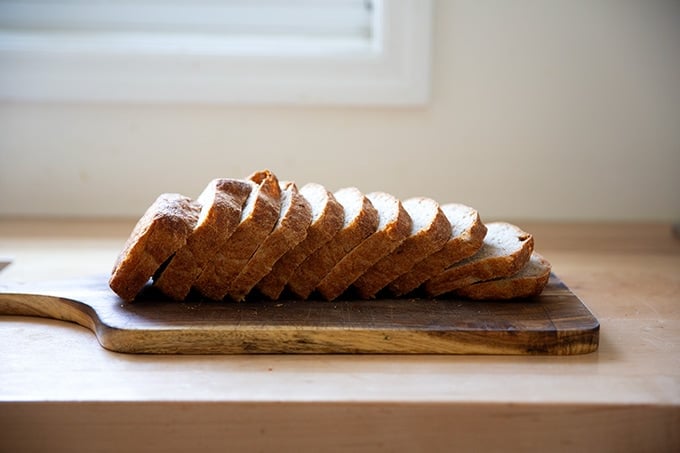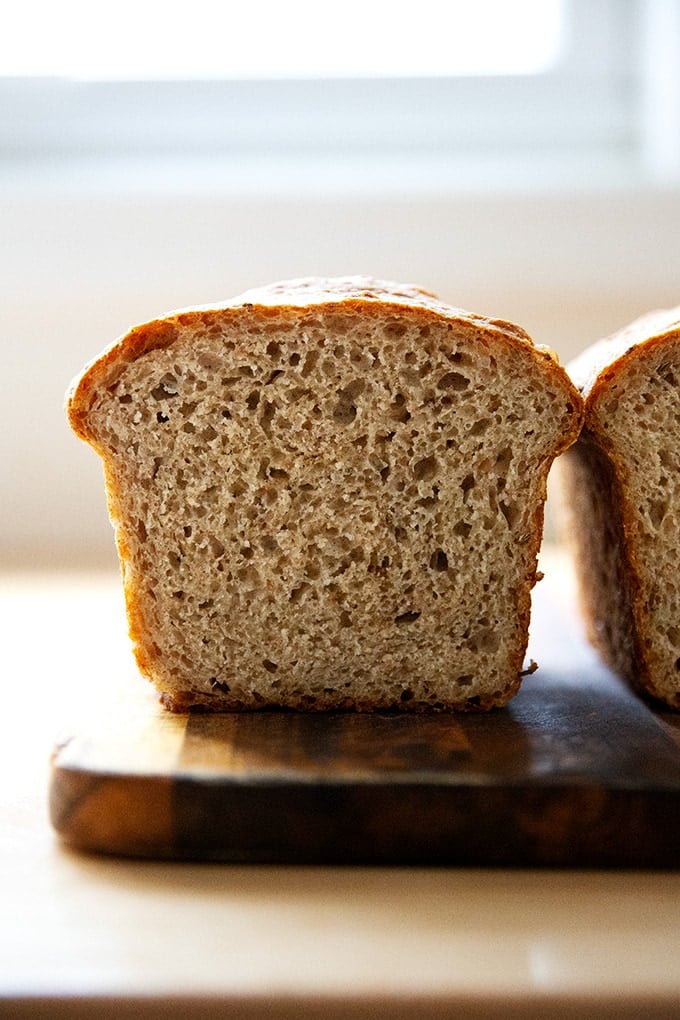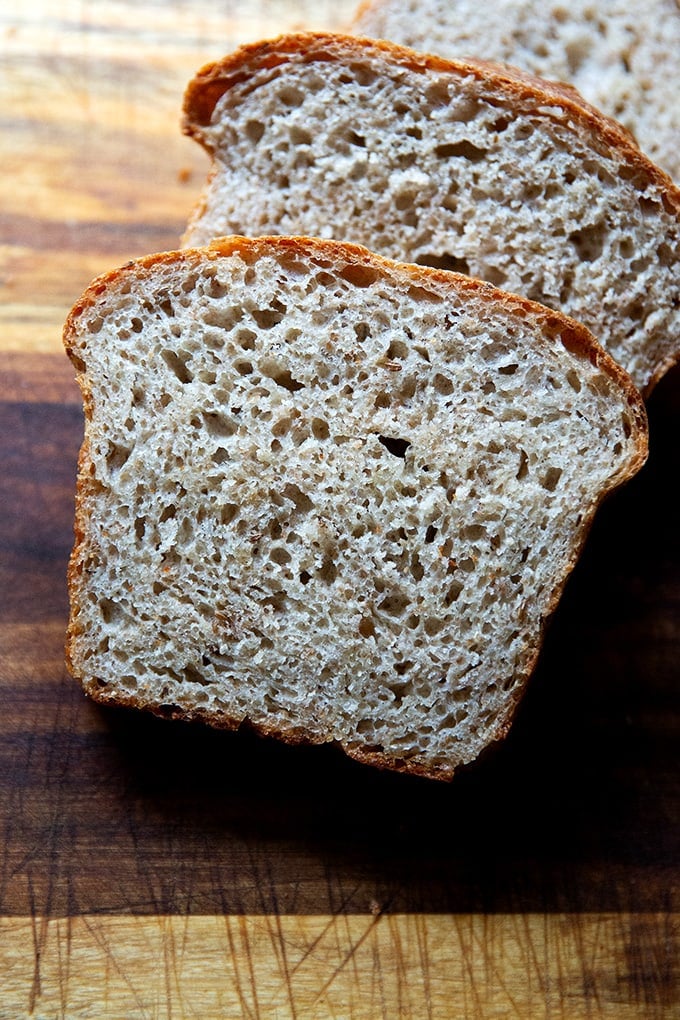 Like the maple-oat bread and the three-seed bread, this one makes great toast: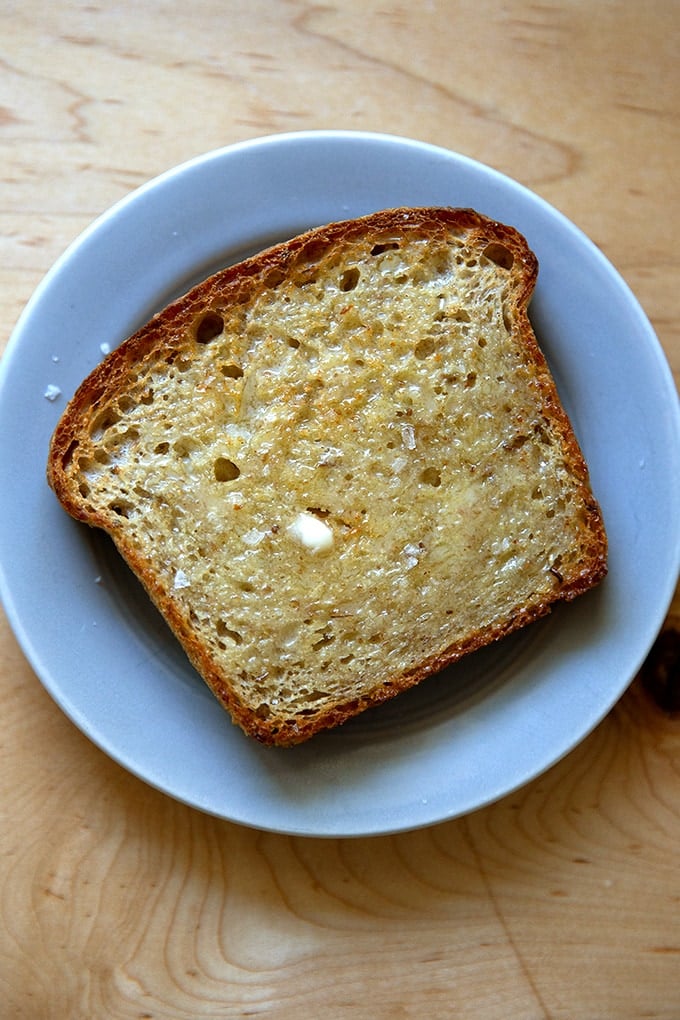 Print
How to Make Homemade Rye Bread
---
Description
Adapted from my cookbook, Bread Toast Crumbs.
Changes from the original recipe include:
The vessel: This one is baked in a single loaf pan as opposed to two 1-quart Pyrex bowls. You can use an 8.5×4.5-inch pan or a 9×5-inch pan. And 8.5×4.5 -inch will produce a slightly taller loaf. 
Weight of the rye flour: I find a cup of rye weighs roughly 96 grams, whereas in the book I was using 128 grams for a cup of rye. See post above for more details.
Added an additional tablespoon of honey.
Reduced the oil to 1 tablespoon.
Reduced the water by 1/4 cup.
Notes:
Salt: I always use Diamond Crystal kosher salt. If you are using Morton's kosher salt or fine sea salt use half the amount by volume or the same amount by weight.
Yeast: If using active dry yeast, sprinkle the yeast over the lukewarm water-honey mixture and let stand for 10 minutes; then proceed with the recipe.
Caraway: If you don't like the flavor of caraway, simply omit the seeds or use less: 1 to 2 teaspoons or to taste.
---
3 cups

(

384 g

) bread or all-purpose flour

1 cup

(

96 g

) rye flour, see note

2 teaspoons

(

10 g

) kosher salt, see note

2 teaspoons

(

10 g

) instant yeast, see note

1 tablespoon

(

9 g

) caraway seeds, see note

1.75 cups

(

395 g

) lukewarm water

2 tablespoons

(

42 g

) honey or maple syrup

2 tablespoons

(

28 g

) extra-virgin olive oil, divided
Softened unsalted butter, for greasing
---
Instructions
In a large bowl, whisk together the flours, salt, instant yeast, and caraway seeds, if using. In a medium bowl, whisk together the water and the honey until the honey is dissolved. Add to the flour, followed by 1 tablespoon of the oil. Using a rubber spatula, mix until the liquid is absorbed and the ingredients form a sticky dough ball.
Cover the bowl with a damp tea towel or a cloth bowl cover or plastic wrap and set aside in a warm spot to rise for 2 to 3 hours, until the dough has doubled in volume.
Preheat the oven to 375ºF. Grease an 8.5×4.5-inch (or 9×5-inch) loaf pan generously with softened butter.
When the dough has doubled, drizzle the remaining tablespoon of olive oil over the top and use your hand to rub the oil over the surface to coat. Use your hand again to release the dough from the sides of the bowl, then flip the ball over so that the oil side is down. Roll the dough into a coil or into a loaf shape, then transfer to your prepared pan seam side down. Watch this video for guidance. 
Let the dough rise on the countertop (preferably in a warm, draft-free spot) for 45 minutes to an hour or until the dough has risen significantly in the pan — it should be doming above the rim of the pan by about one inch. See photos for reference.
Transfer the pan to the oven and bake for 45 minutes, or until the top is evenly browned. Remove the pan from the oven and turn the loaf out onto a cooling rack. Let the loaf cool for at least 30 minutes before slicing.
Prep Time:

5 hours

Cook Time:

45 minutes

Category:

Bread

Method:

Oven

Cuisine:

American
Keywords: rye flour, bread flour, instant yeast, honey
This post may contain affiliate links. Please read my disclosure policy.