One-Bowl Lemon-Blueberry Quick Bread
This post may contain affiliate links. Please read my disclosure policy.
Assembled in one bowl and baked in a loaf pan, this lemon-blueberry quick bread comes together in no time and thanks to both olive oil and yogurt, it stays exceptionally moist for days. Rubbing the lemon zest into the sugar makes the citrus flavor really shine and a clever mixing method ensures you'll have blueberries bursting in every bite!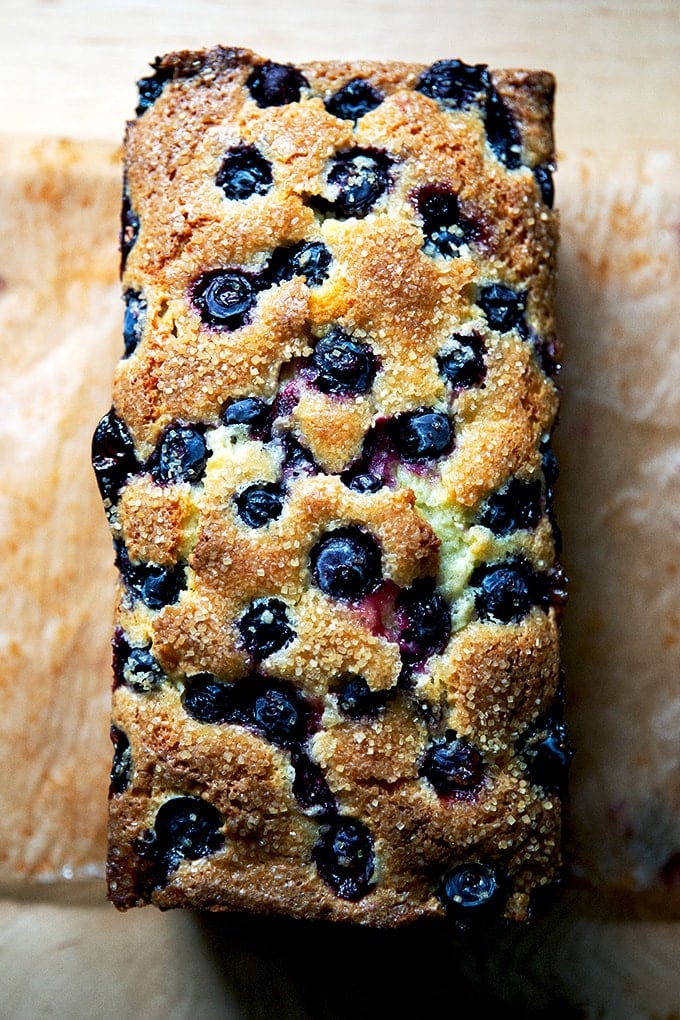 Last weekend, while flipping through Jessie Sheehan's Snackable Bakes in search of an extra-crumb coffee cake recipe I'd bookmarked months ago, I paused two recipes in, struck by a photo of a blackberry-studded loaf cake.
In the notes, Jessie credits both Dorie Greenspan and Ina Garten and describes the result as "nothing short of summer in a loaf pan."
How could I not make it?
Given that I am sharing the recipe here, it's clear that I loved it. But do you know what I loved even more? The process.
The recipe calls for rubbing the zest of two lemons into the sugar, a step that releases oils from the zest into the sugar, heightening the lemon flavor. I remember watching Dorie Greenspan do this years ago on the Martha Stewart Show while making lemon madeleines, and whenever I take the extra time to do it, I think: Why don't I always do this? The smell is intoxicating.
Next, the ingredients, which include yogurt, oil (as opposed to butter), and lots of fresh lemon juice, are added nearly one by one, with whisking called for after each addition. It's a one-bowl job!
Finally, and this is perhaps my favorite part of the whole process, the blueberries (or blackberries) are not added all at once: you fold 1 cup of them into the batter, then, once the batter is in the loaf pan, you scatter the remaining 1/2 cup over the top, before sprinkling all of it with turbinado sugar and popping it into the oven.
One hour later, it will emerge, sugar-crusted, berries busting at the seams. It is a sight to behold! With a cup of morning coffee or afternoon tea, a slice of this loaf is such a treat, perfectly sweet, bright with lemon flavor, juicy berries bursting in every bite.
PS: Lemon-Blueberry Dutch Baby
5 Favorite Quick Breads
Quick breads, in essence, really are cakes baked in loaf pans. Apart from the shape, there is nothing really bread-like about any quick bread I have ever made. Here are 5 of my favorites:
Jessie Sheehan's wonderful Snackable Bakes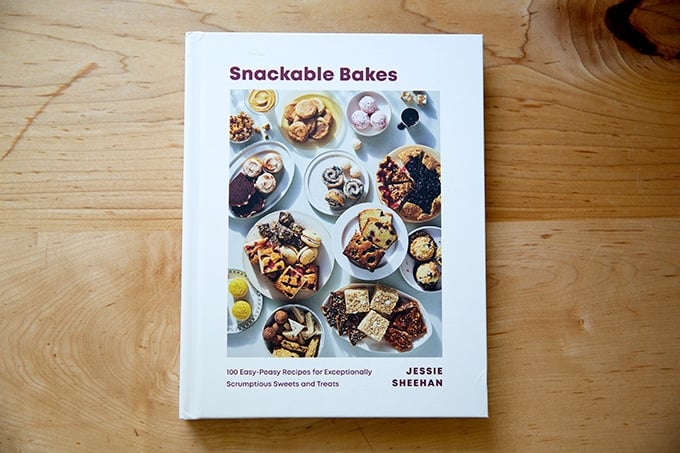 Lemon-Blueberry Quick Bread, Step by Step
Gather your ingredients: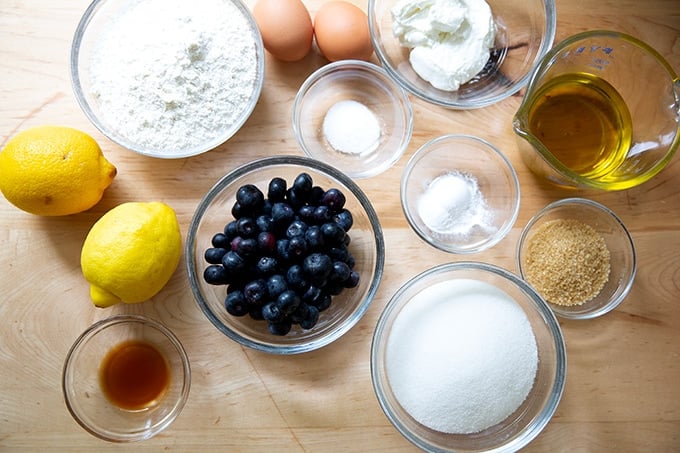 Zest the lemon into the sugar…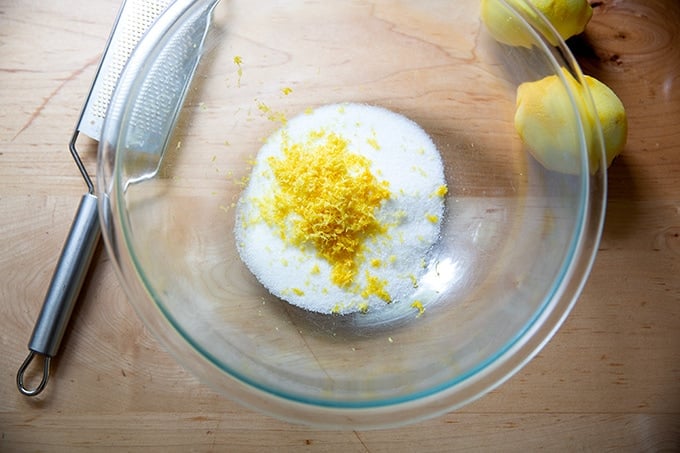 … then rub the zest into the sugar with your fingers.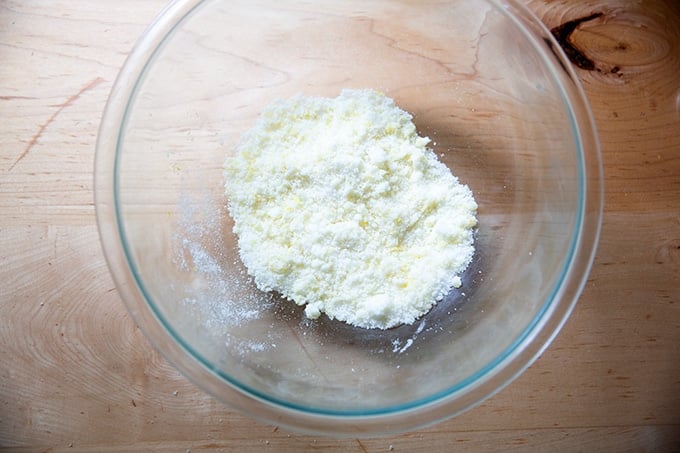 Add the oil and vanilla and whisk for 30 seconds.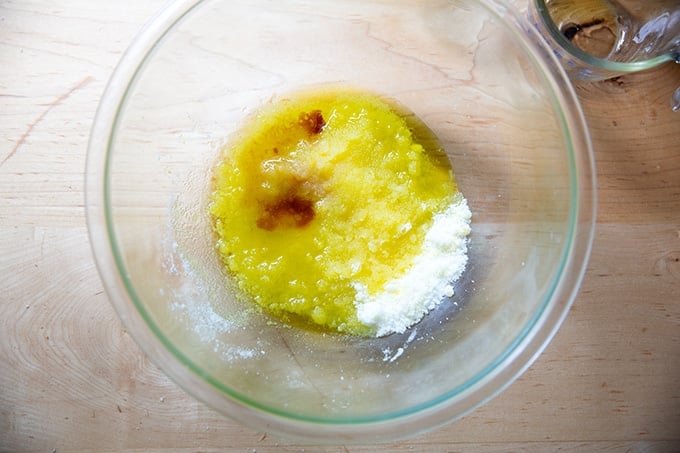 Add the eggs one at a time, whisking after each addition.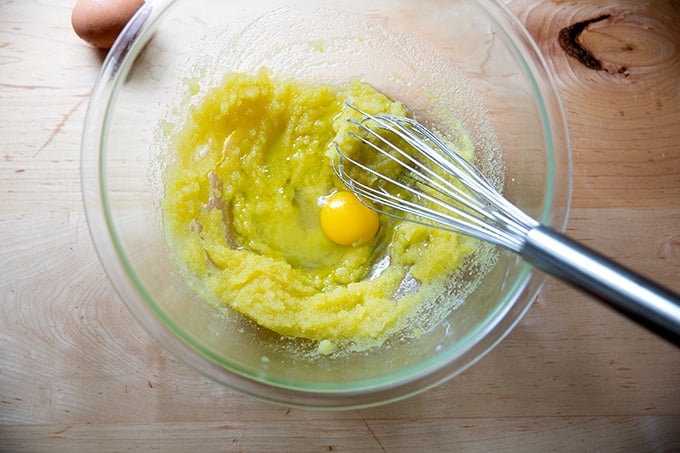 Whisk in the sour cream or yogurt and freshly squeezed lemon juice: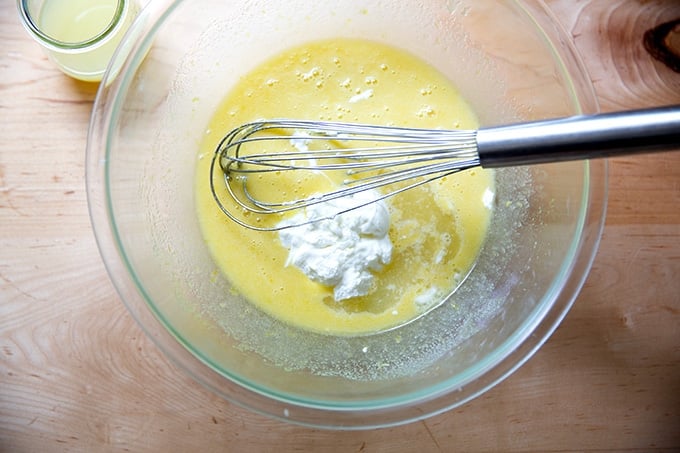 Whisk in the baking powder followed by…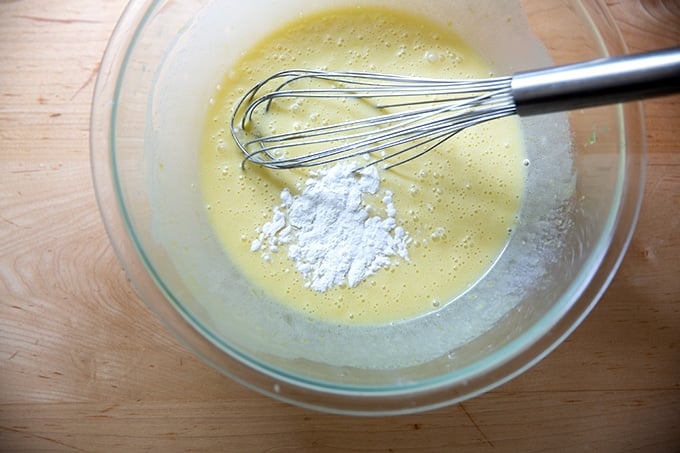 … the salt.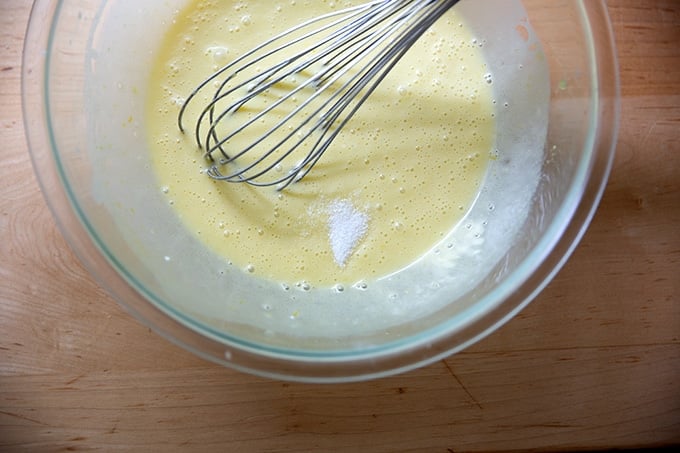 Switch to a spatula and stir in the flour.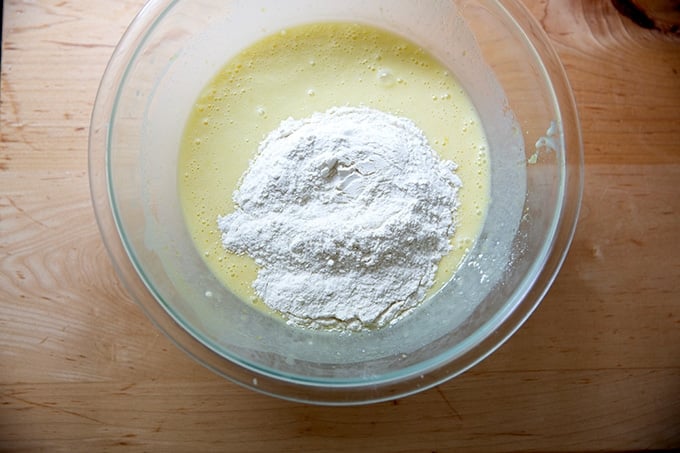 The batter will be slightly lumpy.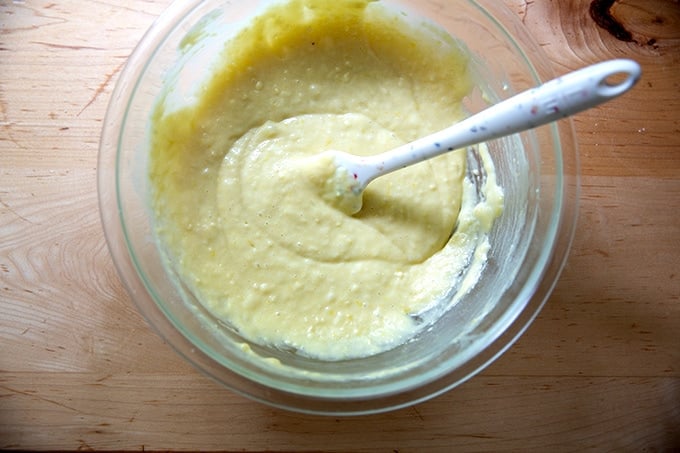 Fold in 1 cup of the blueberries.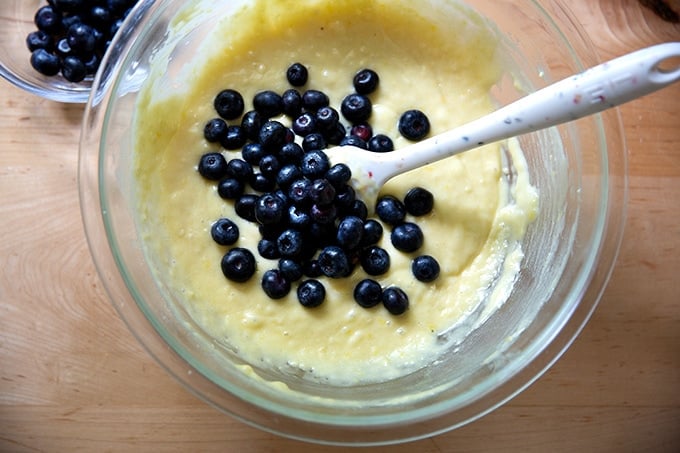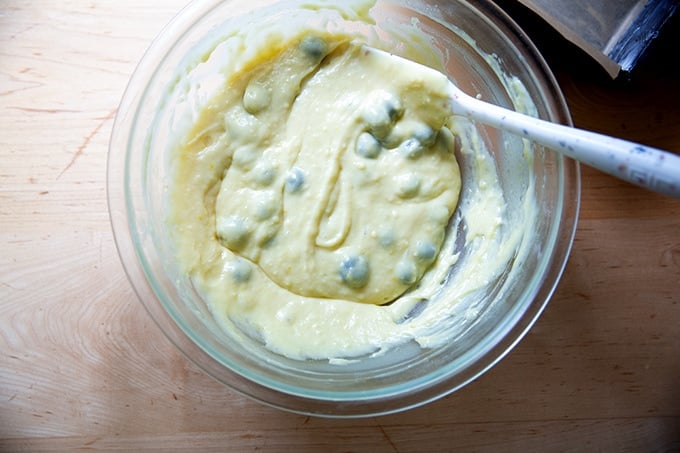 Transfer the batter to a buttered- and parchment-lined loaf pan.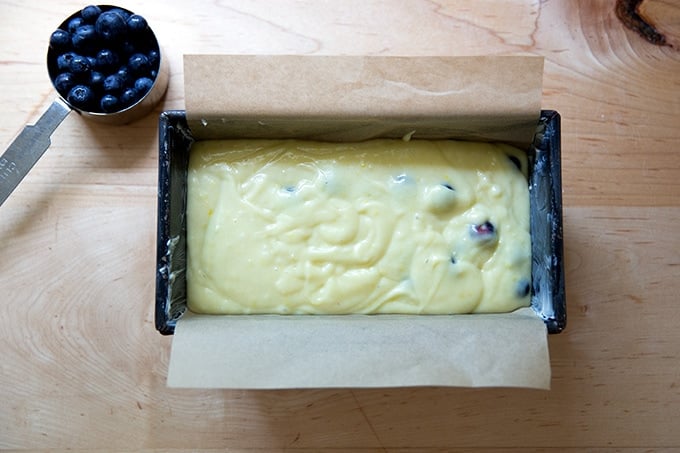 Scatter another 1/2 cup of blueberries over the top. Sprinkle with turbinado sugar.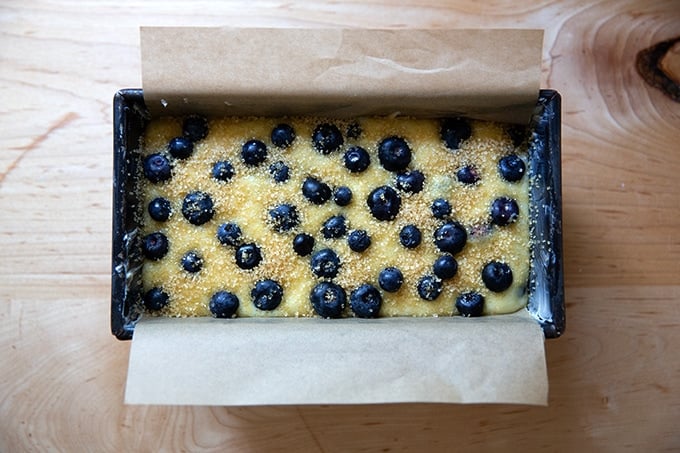 Bake at 350ºF for roughly 1 hour. Remove from the oven, let cool for 20 minutes…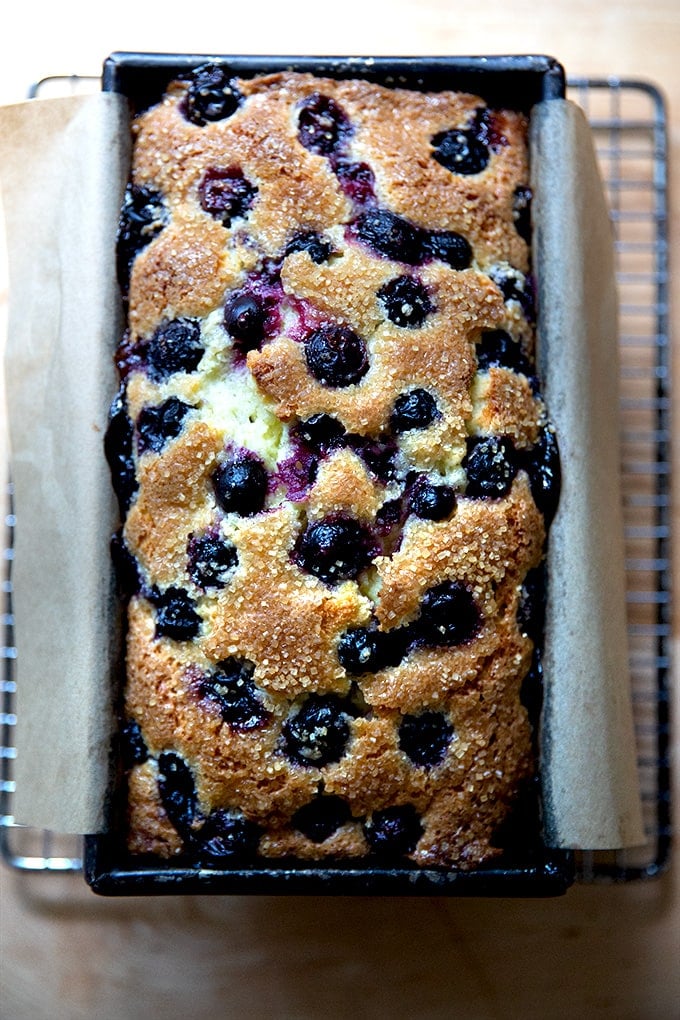 … then remove the loaf from the pan by the parchment sling and let it cool to room temperature.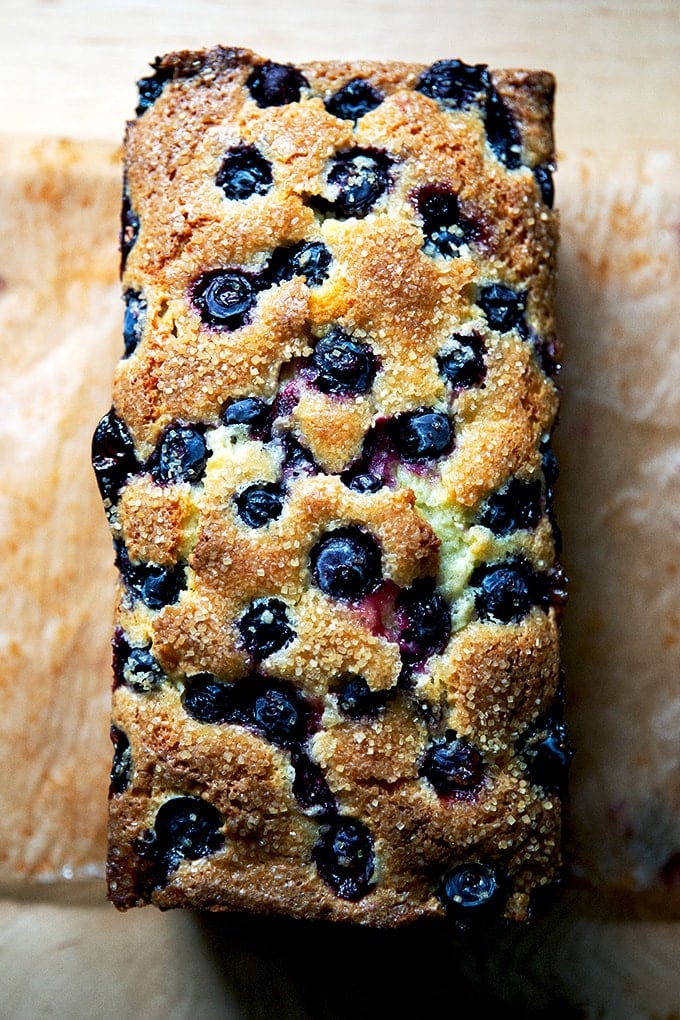 Slice and serve!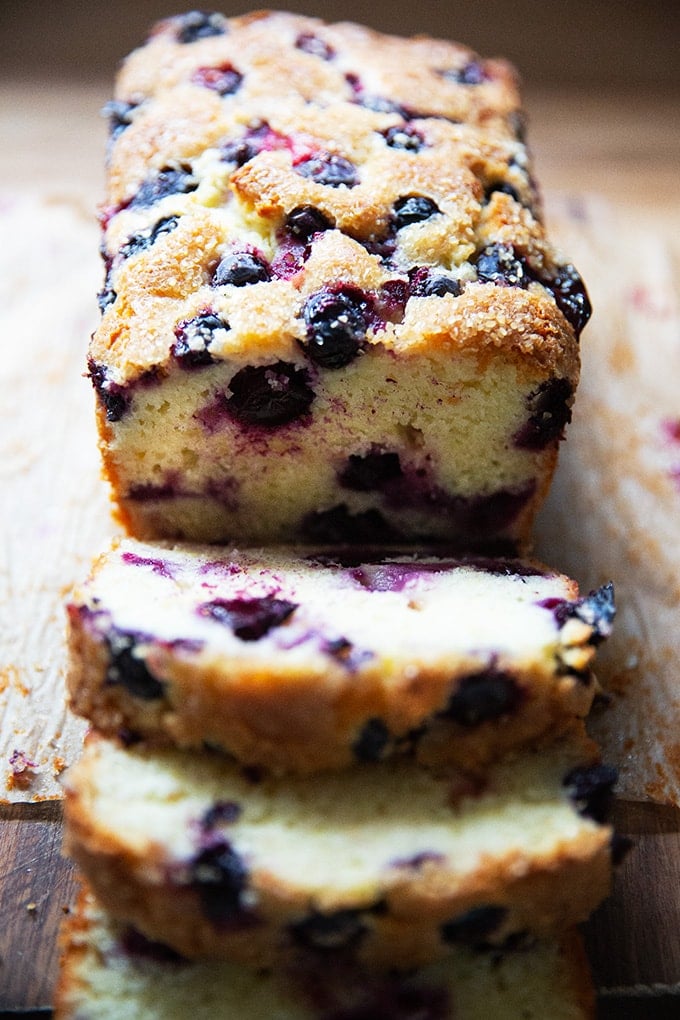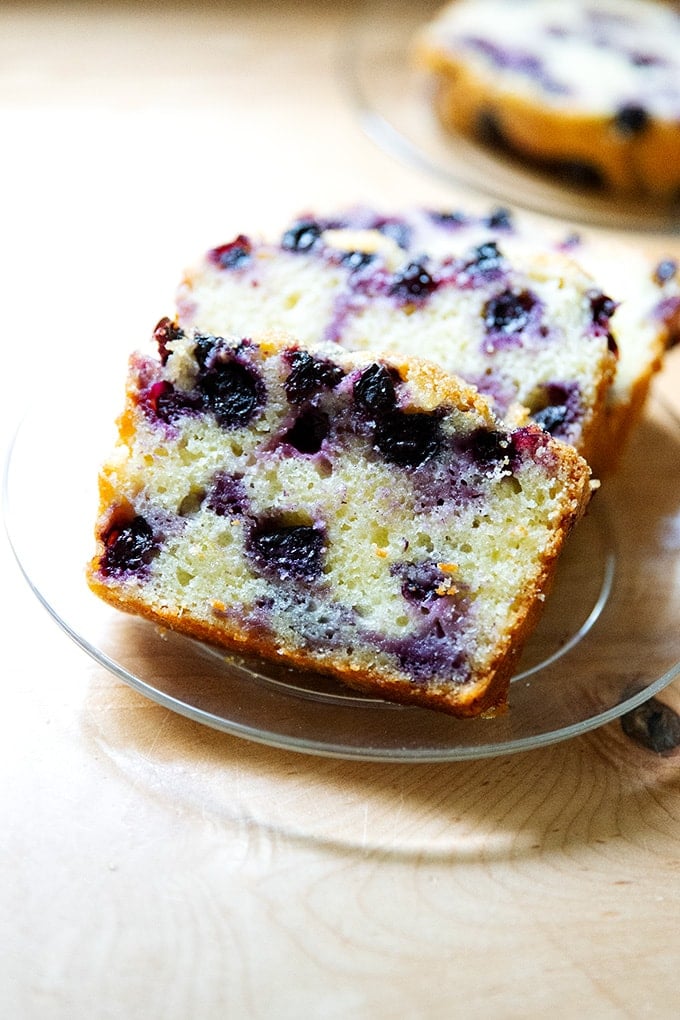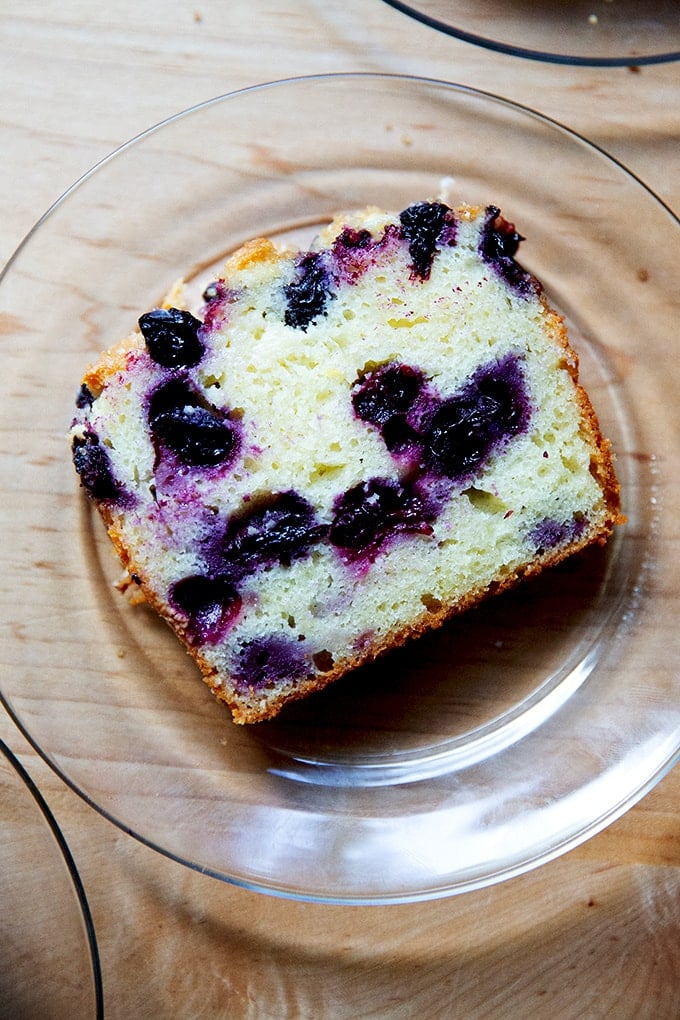 Print
One-Bowl Lemon-Blueberry Quick Bread
---
Description
Adapted ever so slightly from Jessie Sheehan's wonderful Snackable Bakes. 
Changes I've made: 
Used blueberries in place of the blackberries. If you want to use blackberries, roughly chop them before adding them to the batter.
Upped the vanilla to 1 teaspoon vanilla from 3/4 teaspoon.
Used extra-virgin olive oil in place of the vegetable oil.
Upped the kosher salt to 1/2 teaspoon from 1/4 teaspoon.
Used sour cream in place of the yogurt: I've made this twice with yogurt and once with sour cream, and while all were delicious, I think the sour cream version may have been the best. Not sure I would be able to detect a difference in a blind taste test, but just noting this to say both ingredients work great. 
I use this 8.5 x 4.5-inch loaf pan for this recipe.
---
softened butter for the pan
zest from

2

lemons

1 cup

(

200 g

) sugar

1/2 cup

(

118 g

) extra-virgin olive oil or vegetable oil

1 teaspoon

vanilla extract

2

large eggs

2 tablespoons

freshly squeezed lemon juice

1/2 cup

(

120 g

) sour cream or whole milk yogurt

2 teaspoons

baking powder

1/2 teaspoon

kosher salt

1 1/2 cups

(

195 g

) all-purpose flour

1 1/2 cups

(

222 g

) fresh or frozen blueberries
turbinado sugar for sprinkling
---
Instructions
Heat the oven to 350ºF. Grease an 8 1/2 – x – 4 1/2-inch loaf pan (I love this one) with softened butter. Line with a sheet of parchment paper that extends up and over the long sides of the pan (like a cradle for your cake).
Rub the lemon zest into the granulated sugar with your fingers in a large bowl until fragrant. Whisk in the oil and vanilla for 30 seconds. Whisk in the eggs, one at a time, and then the lemon juice and yogurt. Sprinkle the baking powder and salt into the bowl, one at a time, vigorously whisking after each. Gently fold in the flour just until a few streaks remain. The batter will be slightly lumpy. Fold in 1 cup (145 g) of the berries. 
Scrape the batter into the pan, smooth the top, then arrange the remaining 1/2 cup (72 g) of berries over the top of the loaf, pressing down gently. Lightly sprinkle with turbinado sugar and bake for 60 to 70 minutes, rotating at the halfway point. The cake is done when a wooden skewer inserted into the center comes out with a moist crumb or two. Remove from the oven and let cool in the pan for about 20 minutes. Run a knife around the edges, then lift the cake out by the parchment paper overhang and transfer to a rack. Let cool to room temperature before slicing and serving. Keep the cake, wrapped, on the counter for up to 3 days. 
Prep Time:

20 minutes

Cook Time:

1 hour

Category:

Dessert

Method:

Oven

Cuisine:

American
Keywords: olive oil, sour cream, lemon, blueberries, vanilla
This post may contain affiliate links. Please read my disclosure policy.