Sourdough Flour Tortillas (made with discard or not)
This post may contain affiliate links. Please read my disclosure policy.
This sourdough flour tortilla dough couldn't be simpler to mix up — truly it takes 5 minutes to stir together — and after a brief rest, it's ready to be rolled and cooked. Homemade tortillas are so, so delicious, and so nice to have on hand for enchiladas and tacos of all kinds 🌮🌮🌮🌮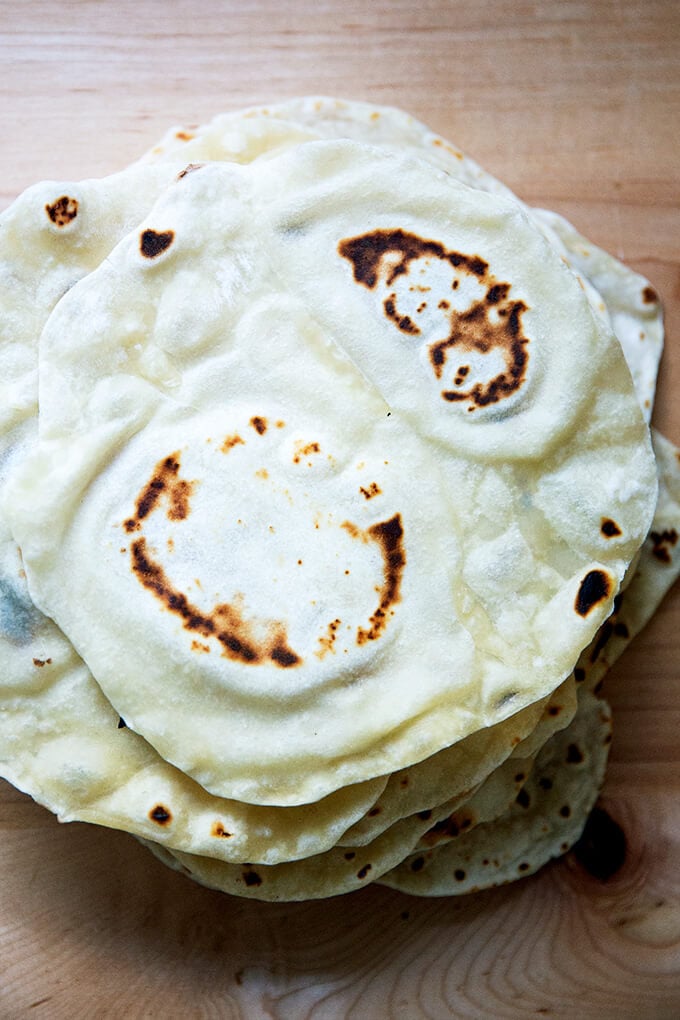 A few weeks ago, I pulled out a bag of my favorite Caramelo flour tortillas to inspect the ingredient list. I had known the company used only high-quality ingredients and very few of them, but I had forgotten if they used some sort of leavening agent, such as baking powder or soda. If you are unfamiliar, Caramelo tortillas char and blister so beautifully due to the presence of myriad air pockets throughout the dough.
It turns out Caramelo uses neither baking powder or soda. Their ingredient list includes: flour, sea salt, fat, and water.
How. Interesting. The simple, flour tortilla recipe I have been making for years calls for baking powder. The recipe works so well I never questioned the necessity of any of its five ingredients, but shortly after this ingredient investigation, I decided to make the flour tortillas without baking powder, and guess what? The tortillas cooked up just as beautifully as ever.
So if it's not baking powder or some other leavening agent — a sourdough starter, yeast — then what makes a tortilla balloon so dramatically in a skillet?
The more I make tortillas, the more I realize it's simply a matter of two things:
Rolling the dough as thinly as possible. Truly: you want to roll until you can nearly see your work surface through the dough.
Using a hot skillet. I alway find my first 3 or 4 tortillas never turn out as well as the remainder, and this, no doubt, is because my skillet isn't hot enough initially.
That's it! There's no fancy mixing or rolling technique, no leavening agent required. Which might have you wondering:
Why use a sourdough starter to make tortillas?
For a few reasons:
If you do a lot of sourdough baking, chances are you may find you have a bit of discard on your hands, which as long as it is not many days old, you can use in this recipe.
Or you may find yourself having mistimed the feeding of your starter. In other words, maybe you fed your starter, but never got around to using it at its peak, and in the meantime, it has collapsed — this happens to me all the time. Rather than feed it again, you could use that collapsed starter in this recipe.
Or maybe you have extra bubbling, very active starter that you'd like to put to use before you stash your starter back in your fridge.
Regardless if I am using super bubbly active starter or discard, the sour flavor is subtle. This is likely because there really isn't a fermentation period. After you mix the dough, it rests for 30 minutes, a short period of time that allows the gluten to relax and makes rolling out the dough a teensy bit easier, (though you can get away with skipping this step if you are pressed for time.)
This recipe is a snap to throw together (as is the non-sourdough version), and I hope you give it a go soon, and then treat yourself to a pan of homemade enchiladas. So, so good.
---
PS: If you are unfamiliar with the sourdough process, I have a free email course that covers the basics. Sign up here: Sourdough Demystified.
PPS: A Few Favorite Sourdough Bread Recipes
PPPS: Easy, No-Knead Flour Tortillas
How to Make Sourdough Flour Tortillas
Here's the play-by-play: Gather your ingredients: flour, salt, softened butter, water, and a sourdough starter.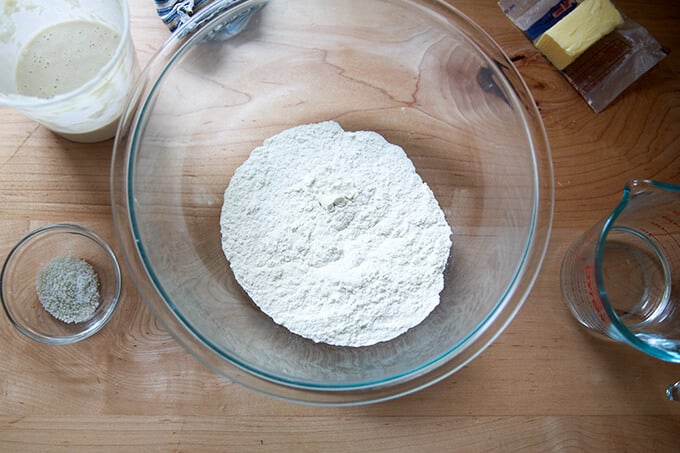 Combine the ingredients and mix to form a sticky dough ball.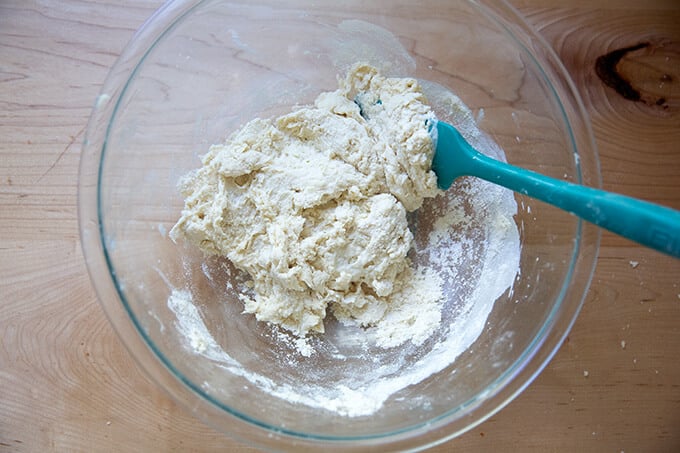 Turn dough out onto a floured work surface and knead gently to combine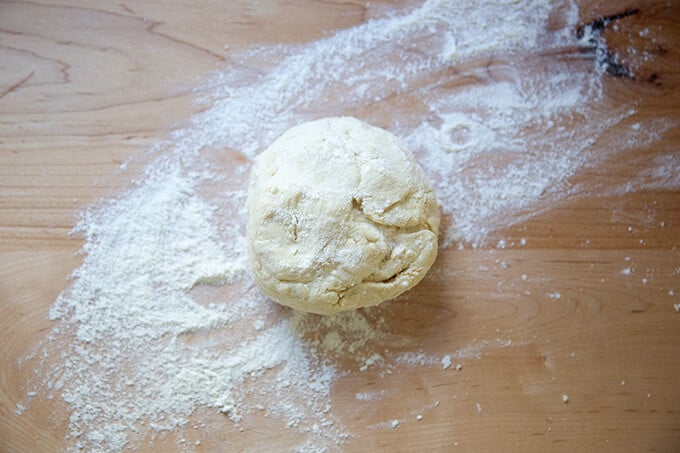 Divide into 12 portions and roll each into a ball.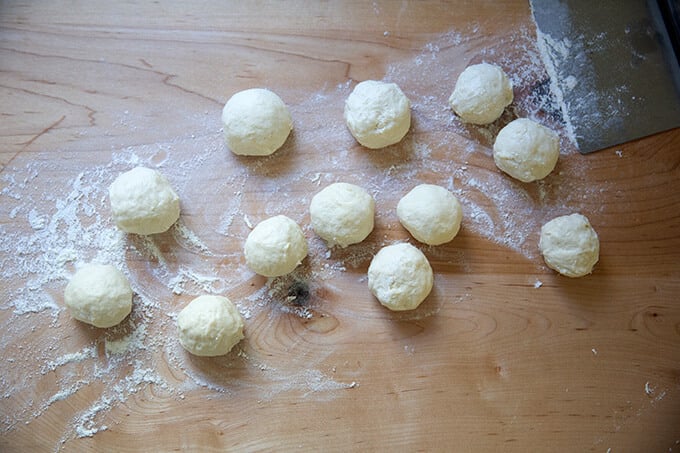 Transfer to a small floured board, if you wish — I do this to give myself more space on my work surface to roll out the tortillas. Cover with a tea towel and let rest 30 minutes to 2 hours.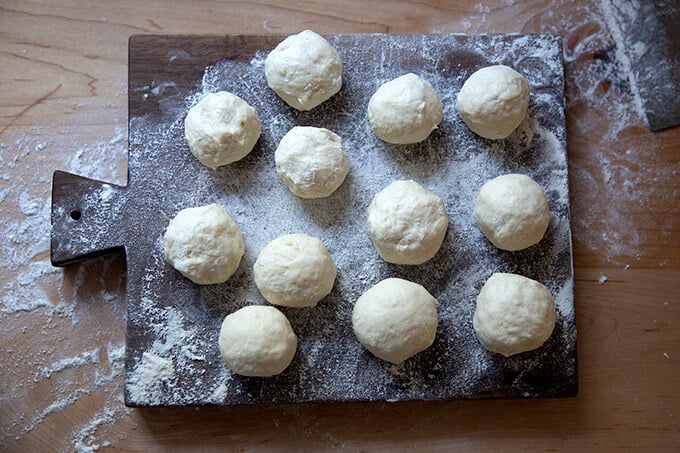 Roll each ball out as thinly as possible. Each ball will roughly be about 8 inches in diameter.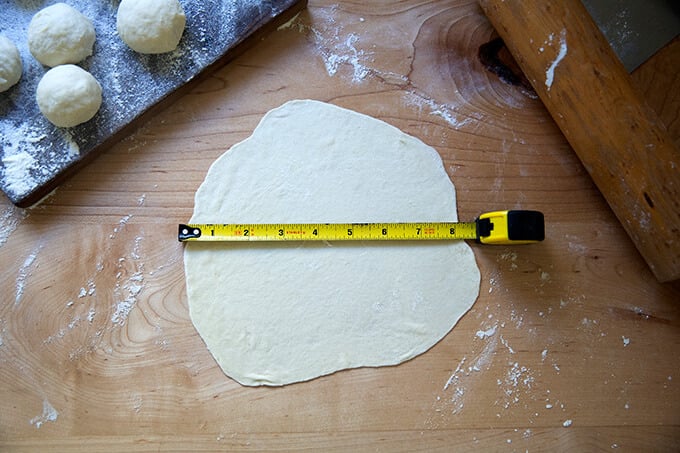 You can layer the tortillas between sheets of parchment paper to give yourself more space.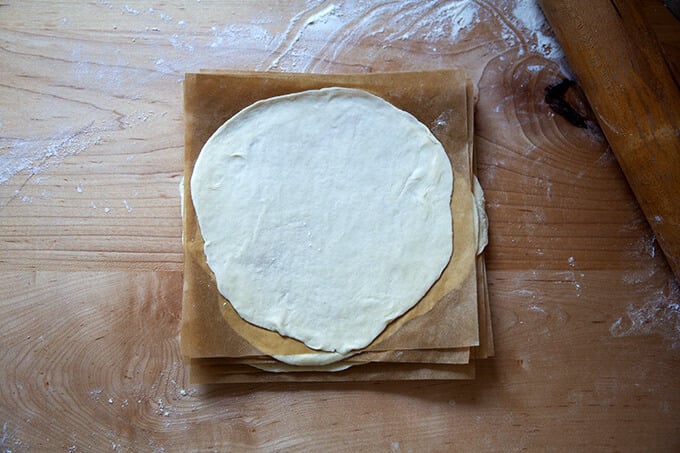 I recently purchased a box of 8-inch square sheets of parchment. I really like the convenience of having smaller sheets on hand. Just a warning: I have only been able to re-use them once before they start losing their non-stick property.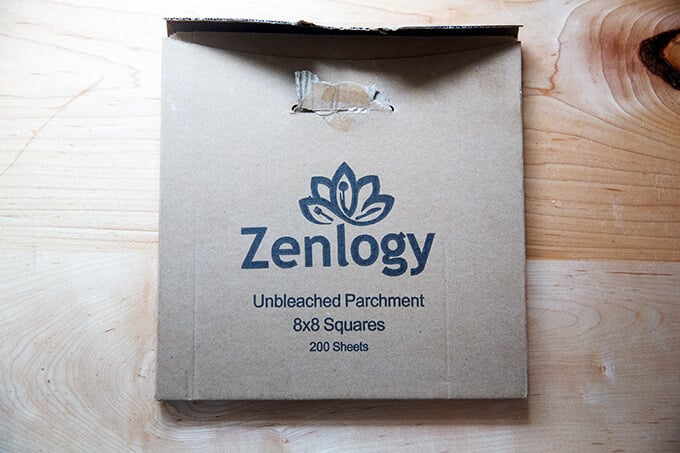 Once your tortillas are rolled out, cook them in a hot, dry skillet for roughly 30 seconds a side, or until browned to your liking. I love using my Le Creuset nonstick crepe pan for this.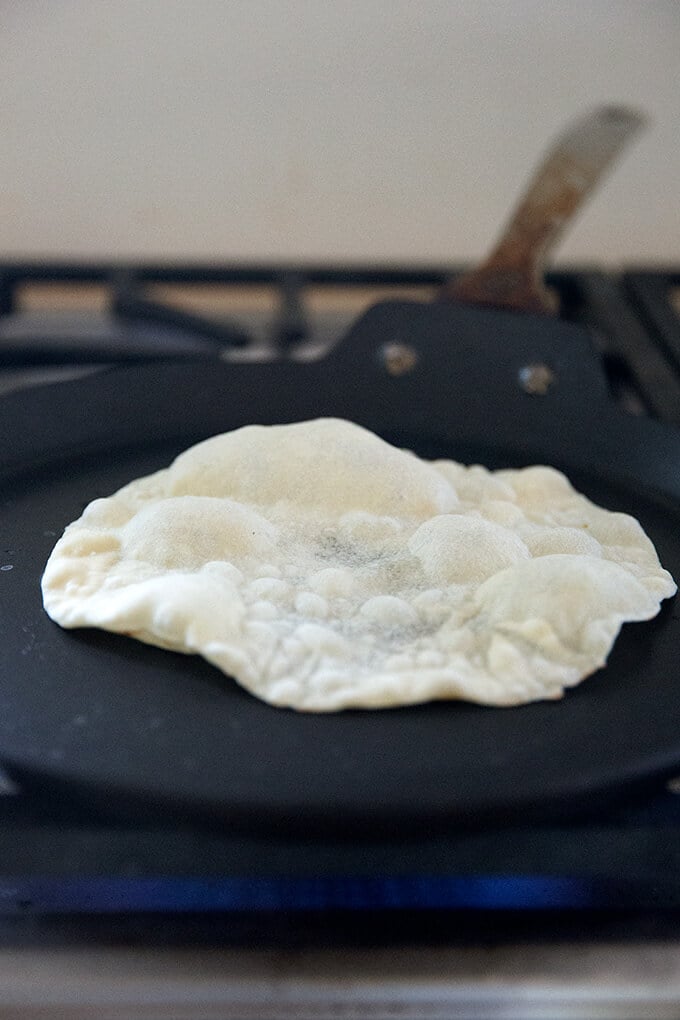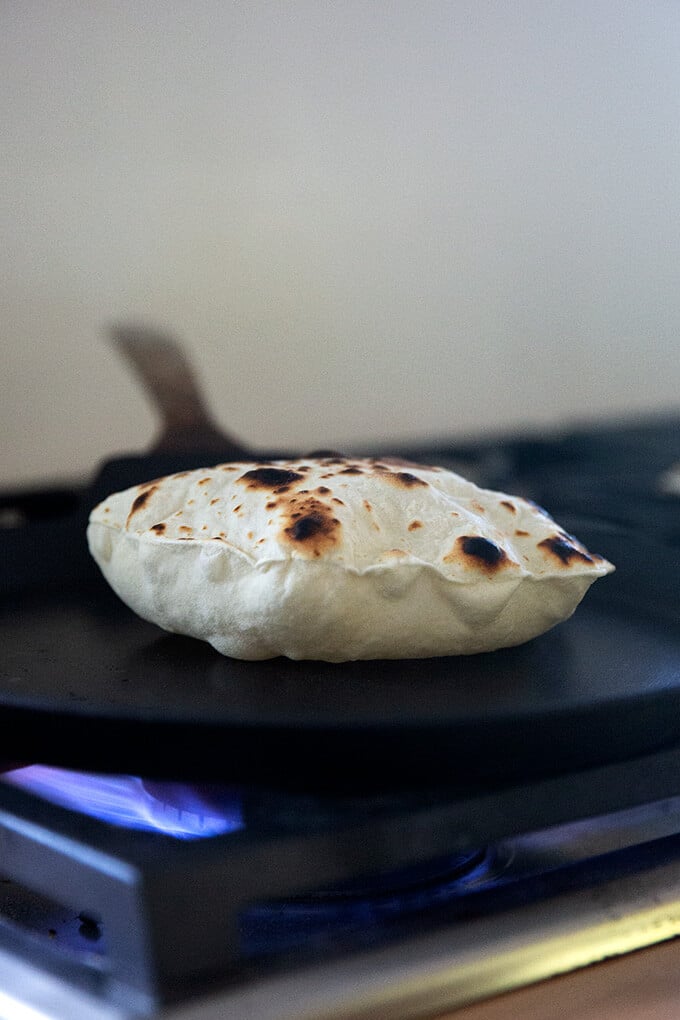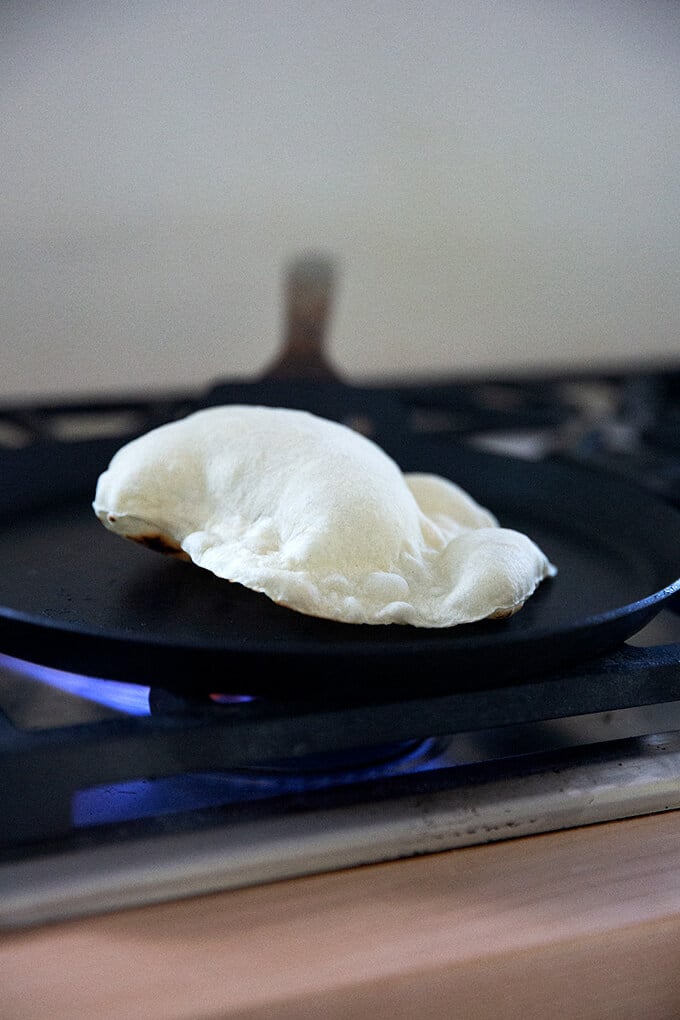 Store the tortillas in an airtight bag or container at room temperature for up to 5 days or freeze for up to 3 months.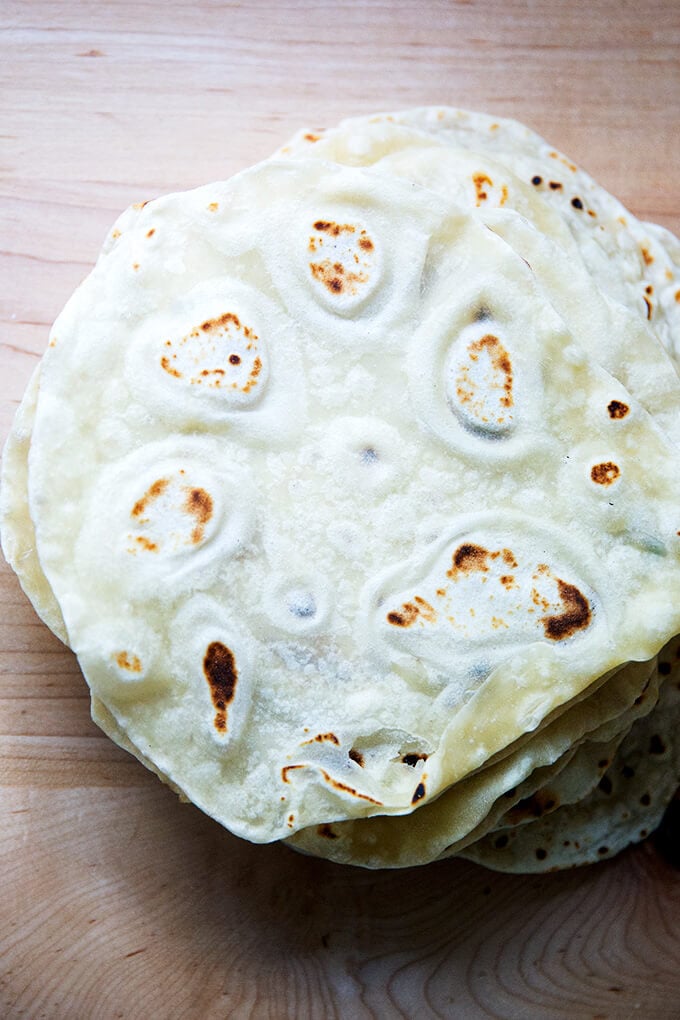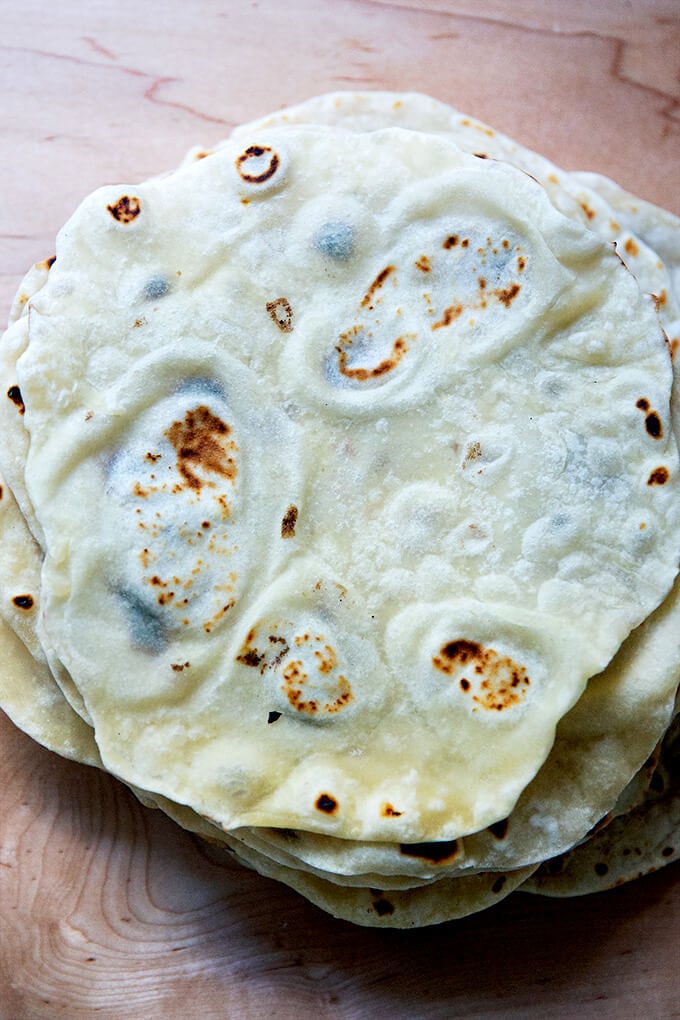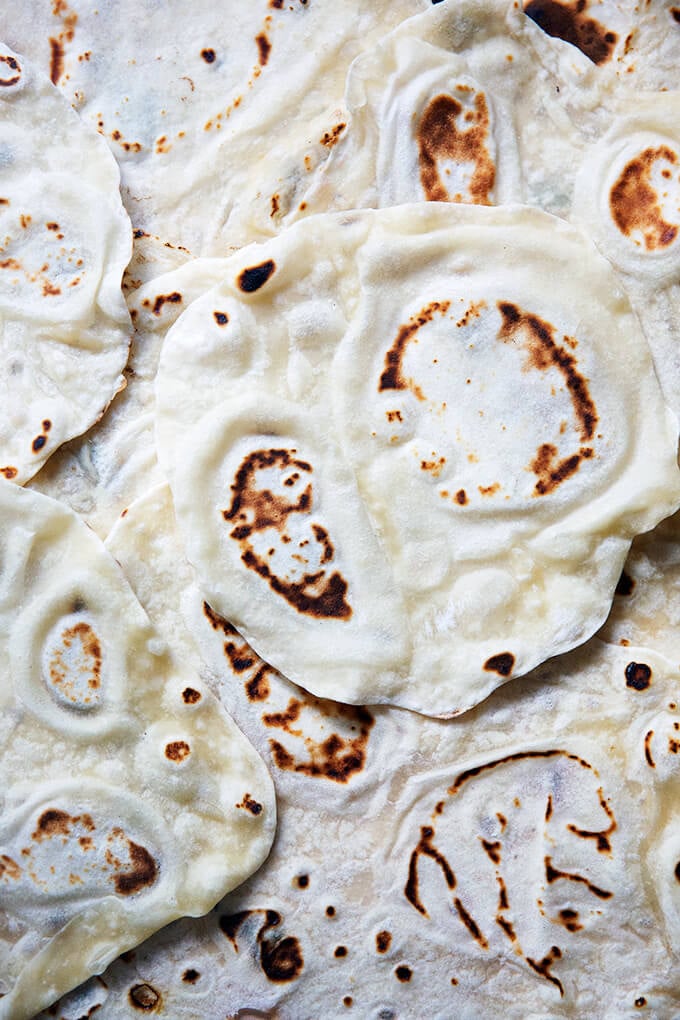 Stumped by Sourdough?
Master sourdough bread baking in my free ecourse!
Print
Sourdough Flour Tortillas (made with discard or not)
---
Description
This recipe is adapted from this flour tortilla recipe, which is made with baking powder (as opposed to a sourdough starter). Regardless of which recipe you are using, there are two keys to success here:
Roll the dough as thinly as possible.
Get your skillet piping hot.
I love using my Le Creuset crepe pan for cooking tortillas. 
---
210 g (1.5 heaping cups) unbleached all-purpose flour

7 g

(1 1/4 teaspoons) kosher salt

56 g

(1/4 cup) softened butter

100 g

water (1/3 cup +

1 tablespoon

)

100 g

(1/2 cup) sourdough starter
---
Instructions
Whisk flour and salt together in a medium bowl. Using the back of a fork, cut the butter into the flour, mixing and smushing it until it is well incorporated into the flour. You can use your hands if necessary to further incorporate the butter into the flour. 

Stir in the water and sourdough starter and mix with a spatula until a shaggy dough forms. Use your hands to gently knead the dough in the bowl, if necessary, to get the mixture to form a rough ball. 

Turn the dough out onto a floured surface and knead for another 1 to 2 minutes or until it is smooth and not sticking to the work surface.

Cut the dough into 12 pieces for taco- or enchilada-sized tortillas or 6 pieces for burrito-sized tortillas. Shape each piece into a ball. (Video guidance here.)

Cover with a very light kitchen towel or plastic wrap. Be careful that your room isn't too hot. Let the dough rest 30 minutes and up to two hours (at room temperature or 24 hours in the fridge. If you need to store the in the fridge, transfer balls to an airtight container.)

Roll out each ball to about 6 to 8 inches (taco size) or 10 to 12 inches (burrito size) in diameter, or till you can see the counter start to come through — in other words, roll them as thinly as possible.

Heat a 12 inch non-stick or cast-iron pan (do not add any oil) on medium-high. Lay the tortilla in the pan and cook until it puffs and little brown spots on the underside appear. Turn with tongs or your fingers and cook again till lightly brown. Each tortilla takes about 60 seconds total to cook. If you like a bit of char, keep the tortilla in the skillet until it is charred on both sides. Note: Your first 3 to 4 tortillas may be on the pale side. This is just likely because your skillet isn't up to temperature. Once you make a few, you'll find your rhythm and adjust the heat as necessary depending on if you want more or less char. 
Once the tortillas cool, store them in an airtight bag or container at room temperature for up to 5 days or freeze for up to 3 months.
Prep Time:

30 minutes

Cook Time:

15 minutes

Category:

Tortilla, Bread

Method:

Stovetop

Cuisine:

Mexican, American
Keywords: sourdough, tortillas, discard, flour, simple
This post may contain affiliate links. Please read my disclosure policy.