Large Batch Basil Pesto
This post may contain affiliate links. Please read my disclosure policy.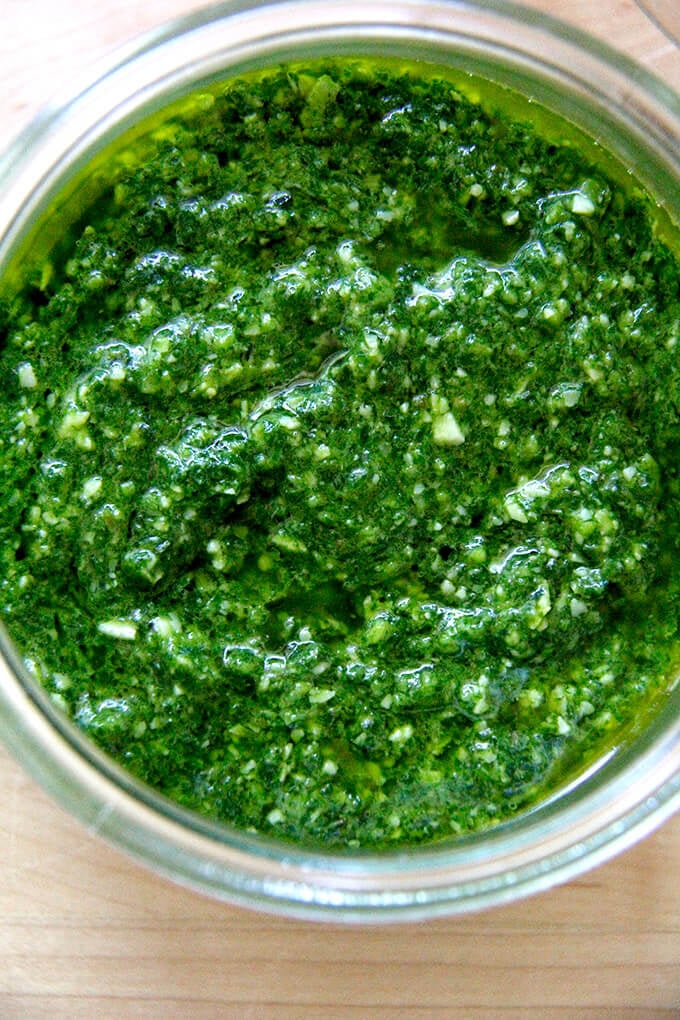 I've been trying to get this post out for weeks and almost, in fact, didn't publish it because I feared at this point in the summer it might be irrelevant, but a trip to the Schenectady Greenmarket this past Sunday quelled my worries. Basil—in large bunches—is still readily available and affordable. And perhaps your backyard basil bushes are flourishing, too? (Mine are dead.)
Three weeks in a row (several weeks ago now), an enormous bunch (or two!) of basil arrived in our CSA. Initially I used the basil as needed, but the bounty eventually caught up with me, so I made a very large batch of basil pesto, and for the first time ever, I froze it in individual blocks using my ice cube tray. This is probably something you all have been doing for years, and I absolutely should have been, too, but alas I have not. Note: Historically my freezer is the place where things go to die.
There is a recipe below for a straight-up, large-batch basil pesto with notes for making a small batch as well as for adapting the recipe to whatever herbs and nuts you have on hand. I hope it might be handy should you find yourself with an overload of herbs.
Hope your summer is going well, Friends. I feel a bit in the weeds in regard to the blog, but I suppose this is a good thing? I've been spending my days with the kids at the town pool or park or with my in-laws or parents, and for the first time, I've actually been really enjoying* it. Hope you all are so well.
*I did, however, just sign the kids up for a week of full-day soccer camp because this "fun mom" is running out of steam.
Reminder: Store basil out of the fridge in a tall glass with a little bit of water. Here's a how-to-make-pesto play-by-play: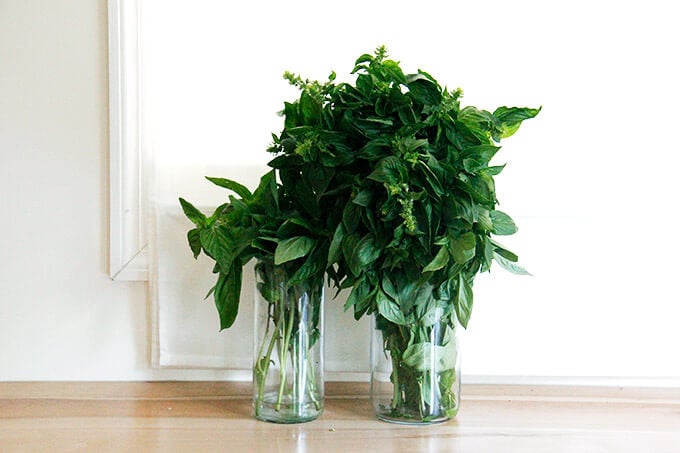 Remove tough stems; tender ones are OK: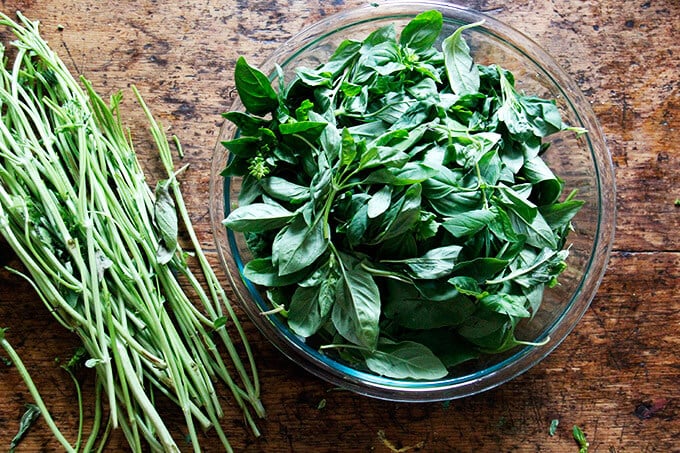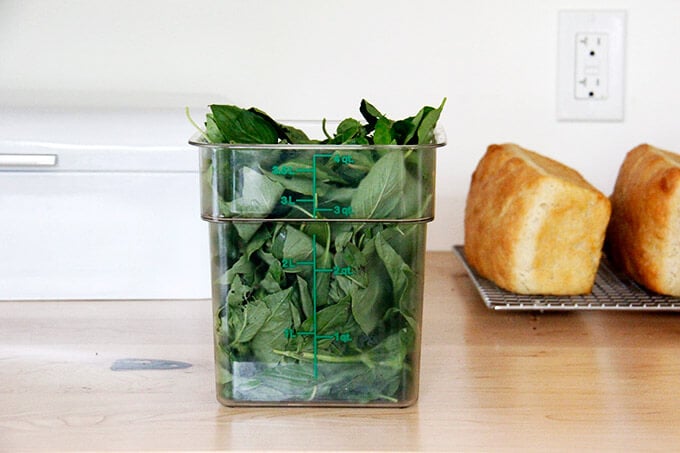 Gather your ingredients. I have not been using nuts, but absolutely use nuts if you wish.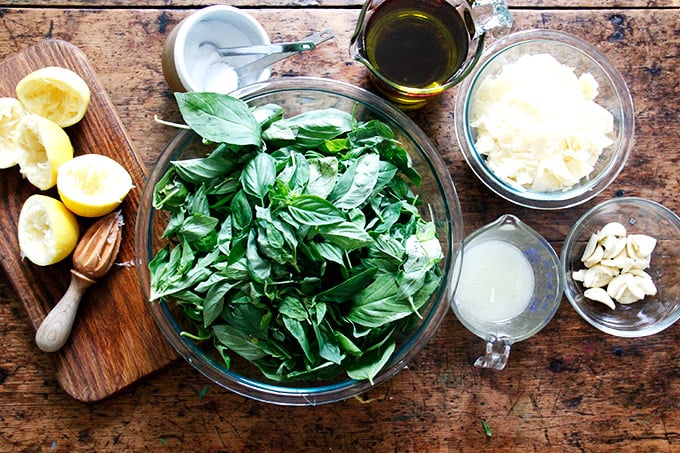 If you are making a large batch, you'll likely have to process the pesto in batches.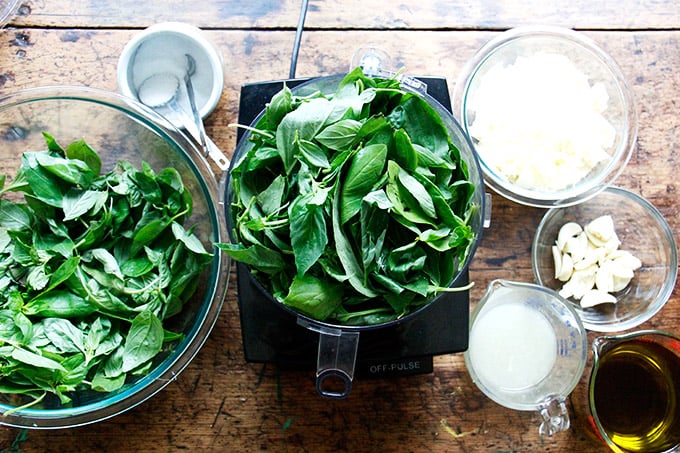 Add herbs, cheese, garlic, nuts, etc. into food processor: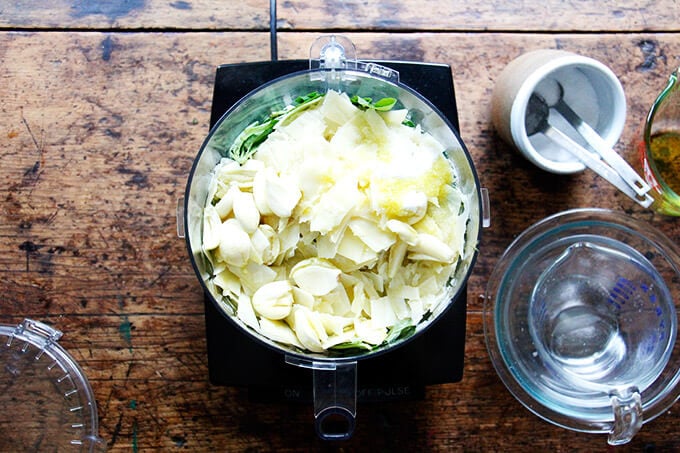 Purée until everything is combined. Taste, and adjust seasoning as desired with more salt, lemon, oil, etc: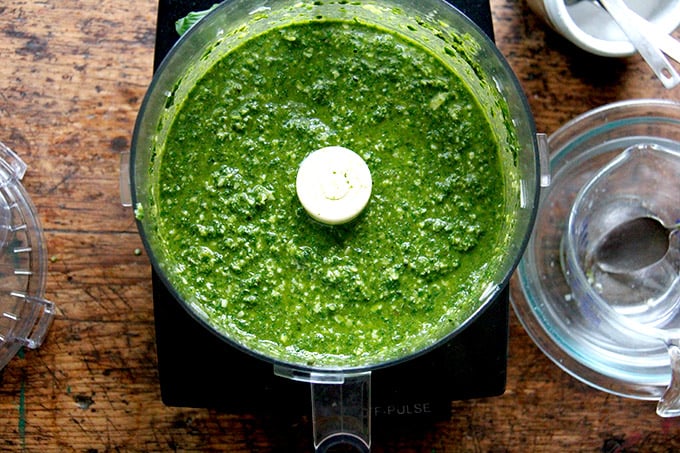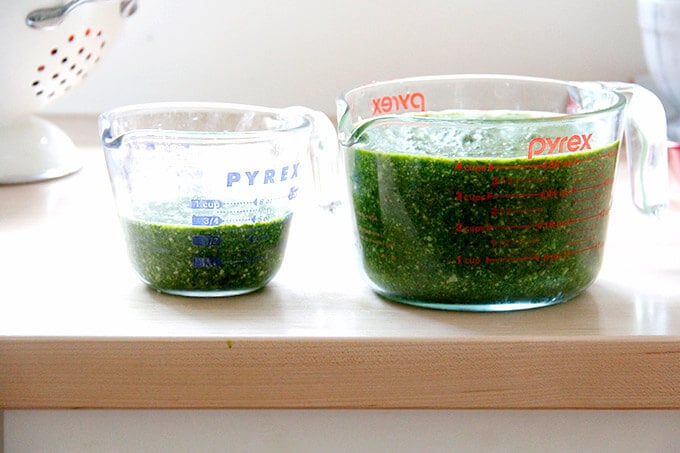 I've been using the pesto on sandwiches. Love this one: roasted red peppers, fresh mozzarella, and greens on ciabatta: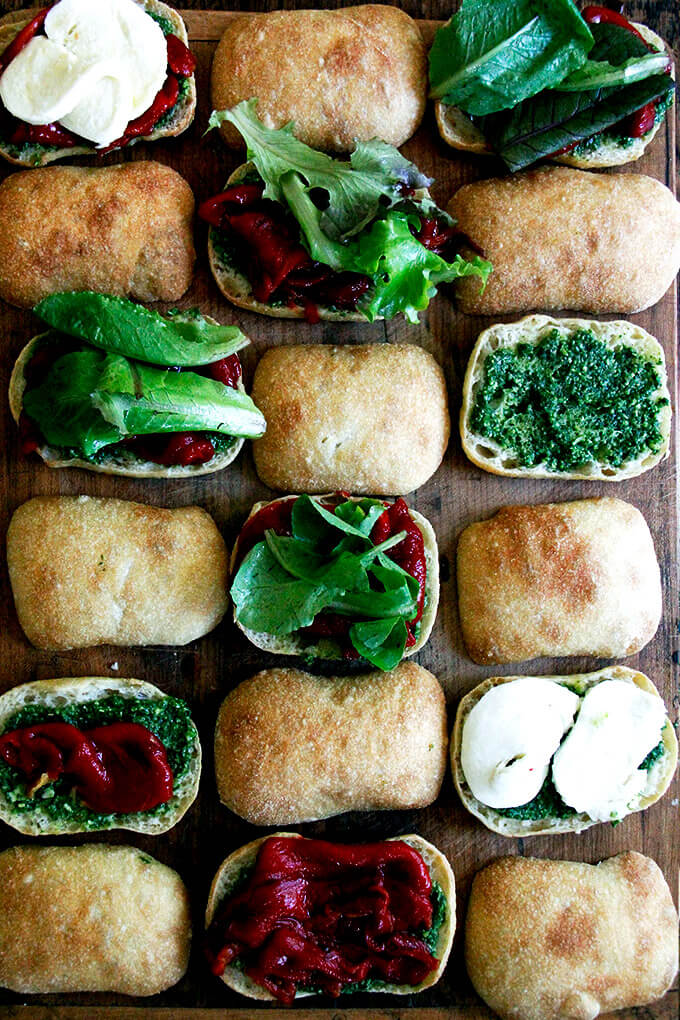 Also great tossed with grilled vegetables: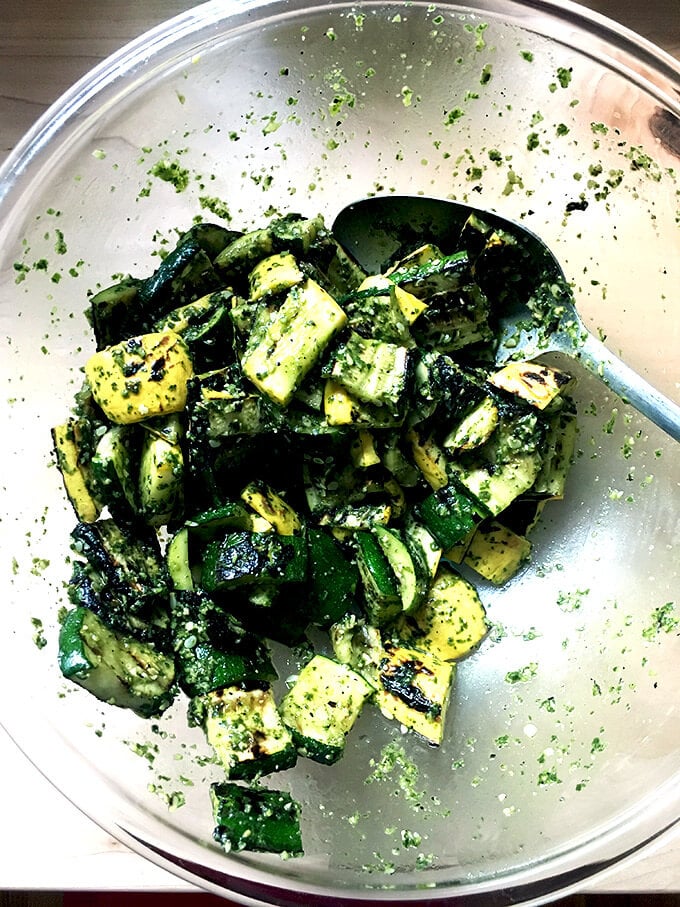 Store pesto in fridge or freezer. Freeze pesto in ice cube trays; then transfer the frozen cubes to a ziplock bag and return to the freezer. Look: I found purpose for my canelé mold I have yet to use—score!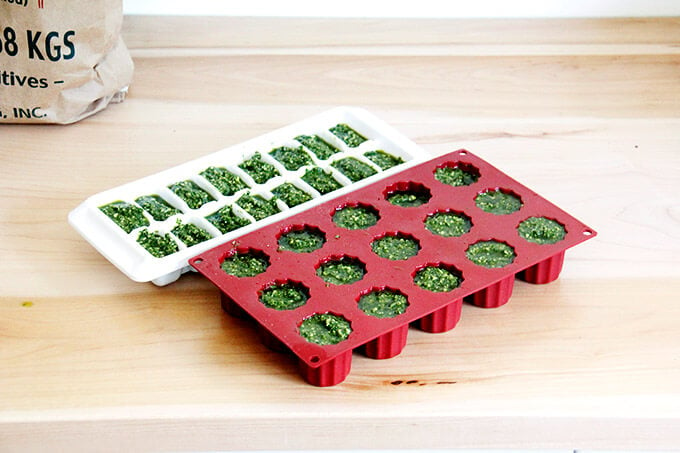 Print
Large or Small Batch Basil Pesto
---
Description
Pesto can be made with many a herb (parsley, chives, tarragon, cilantro) as well as many a vegetable (kale), cheese (pecorino), and/or nut (walnuts, almonds, hazelnuts). Because our CSA had gifted us three enormous bundles in two weeks, I made a straight-up basil pesto, omitting the nuts mostly because they're so darn expensive. If you like the texture and flavor offered by nuts, you can definitely add them here. Quantities are listed in ingredient list.
Pesto freezes beautifully. Freezing in ice cube trays or something similar is handy, because it allows you to remove small portions as needed.
Re kosher salt: I note the brand I use, Diamond Crystal, because saltiness varies among brands. If you use Morton's kosher salt, for example, you should cut the amount of salt back because Morton's is saltier than Diamond Crystal.
To make a small batch of pesto, use these quantities:
4 cups (85 g) loosely packed basil
2 to 4 cloves garlic, peeled
1 to 2 tablespoons fresh lemon juice
1 teaspoon kosher salt (Diamond Crystal brand, see notes)
1/2 cup (57 g) grated Parmigiano Reggiano
1/4 cup toasted pine nuts, almonds, or walnuts (optional)
1/2 cup extra-virgin olive oil
---
16 cups

(

320 g

) basil

1

head garlic, peeled

1/2 cup

fresh lemon juice

3

to

3.5

teaspoons kosher salt (Diamond Crystal brand, see notes)

2 cups

(

215 g

) grated Parmigiano Reggiano

1 cup

toasted pine nuts, almonds, or walnuts (optional)

2 cups

extra-virgin olive oil
---
Instructions
Combine basil, garlic, lemon, 3 teaspoons of the salt, and the cheese in a food processor. Pulse to combine—you may have to pulse in batches. Add the oil and purée to combine. Taste. Adjust with more salt, lemon or oil to taste. Store in fridge or transfer to ice cube trays and freeze; then transfer to a ziplock bag and store in freezer.
Prep Time:

20 minutes

Category:

Condiment

Method:

Food Processor

Cuisine:

Italian
Keywords: pesto, basil, large, batch, small, parmesan, garlic, lemon
This post may contain affiliate links. Please read my disclosure policy.