Homemade Ricotta
This post may contain affiliate links. Please read my disclosure policy.
This 4-ingredient homemade ricotta is simple to make, tastes vastly better than anything you could buy at the store, and can be ready in just about 30 minutes!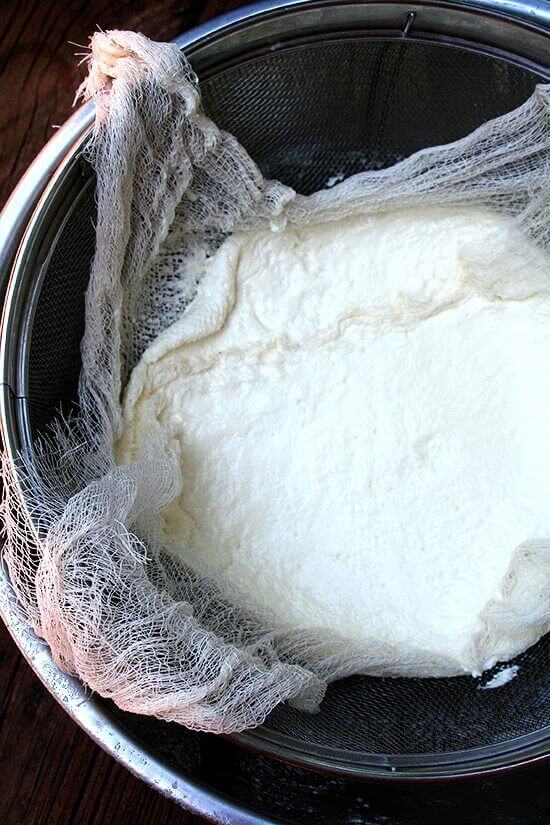 I never thought I liked ricotta until I made it from scratch. The difference in taste and texture between homemade ricotta and store-bought is dramatic. If you, too, think you don't like ricotta, I have no doubt this recipe will change your mind.
How to Make Homemade Ricotta
Get Organized. You'll need to line a fine-meshed sieve with a few layers of cheesecloth. It's helpful to have some kitchen clips or clothespins on hand to fasten the cheesecloth to the sieve.
Stay focused. Every cook at some point in his/her life has made the mistake of walking away from a pot of near-boiling milk or cream only to return to find the pot boiling over. In this recipe you'll bring 4 cups of milk and 2 cups of heavy cream with a teaspoon of kosher salt to a simmer over medium heat. Do not walk away. As soon as the milk-cream mixture comes to a boil remove it from the heat. Add 3 tablespoons vinegar and let it sit for 1 minute, until the mixture begins to curdle.
Be Patient. It takes 20 to 30 minutes for the curds to separate from the whey. If you line your sieve especially well, it will take longer. Once the ricotta (the curds) has reached a consistency you like, spoon it into a serving vessel or storage jar and use as you wish. A few ideas follow. Save the whey! You can use it to make bread; you can use it to thin out the ricotta to the consistency you like on subsequent days.
How to Use Your Homemade Ricotta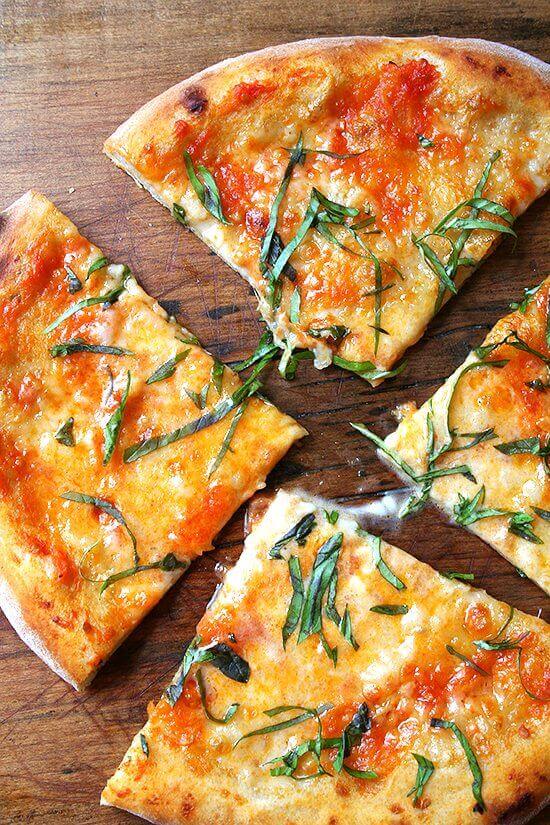 Bruschetta with Thyme-Roasted Grapes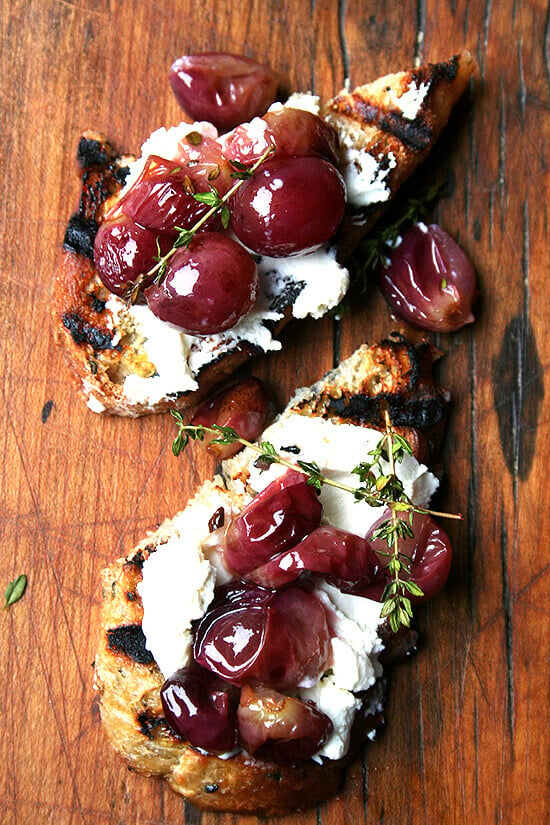 A Summer Lunch: Tomatoes, Basil, Grilled Bread, Homemade Ricotta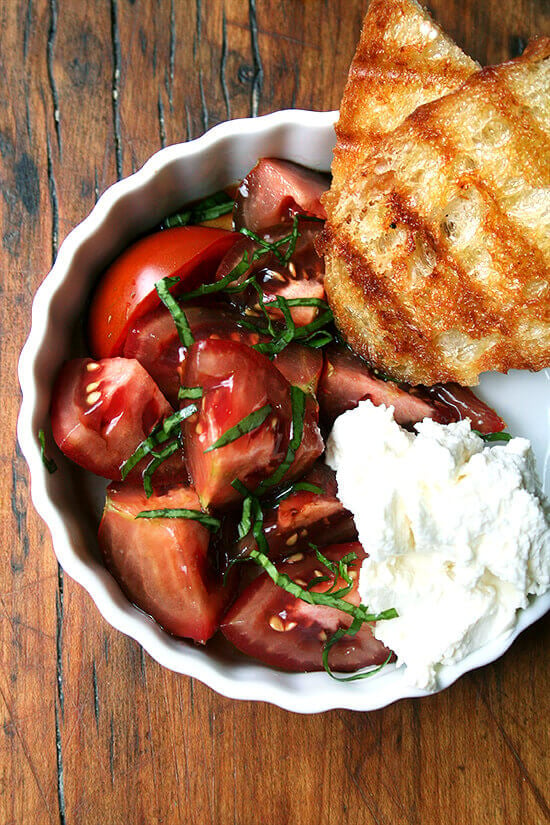 An Irresistible Appetizer: Whipped Ricotta with Olive Oil and Herbs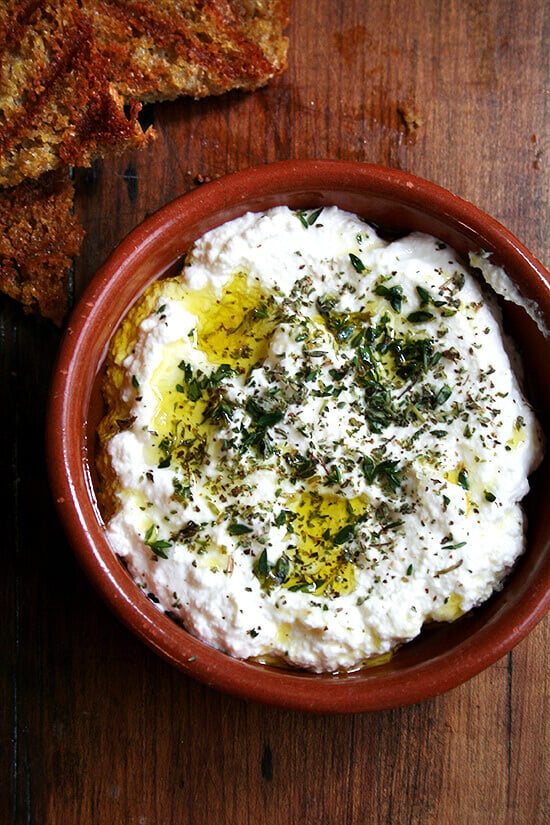 Endive and Fava Tartines with Herbed Ricotta
Print
Homemade Ricotta
---
---
4 cups

whole milk

2 cups

heavy cream

1 teaspoon

kosher salt

3 tablespoons

good white wine vinegar
---
Instructions
Set a large fine-mesh sieve over a deep bowl. Dampen 2 layers of cheesecloth with water and line the sieve with the cheesecloth.
Pour the milk and cream into a stainless steel or enameled pot. Stir in the salt. Bring to a full boil over medium heat, stirring occasionally. Turn off the heat and stir in the vinegar. Allow the mixture to stand for 1 minute until it curdles. It will separate into thick parts (the curds) and milky parts (the whey).
Pour the mixture into a cheesecloth-lined sieve and allow it to drain into the bowl at room temperature for 20 to 25 minutes, occasionally discarding the liquid that collects in the bowl. The longer you let the mixture drain, the thicker the ricotta. Transfer the ricotta to a bowl, discarding the cheesecloth. Save the whey — you can make bread with it. Use the ricotta immediately or transfer to a storage vessel, and refrigerate. The ricotta will keep refrigerated for 4 to 5 days.
Prep Time:

2 minutes

Cook Time:

25 minutes

Category:

Cheese

Method:

Stovetop

Cuisine:

American/Italian
Keywords: homemade, ricotta
This post may contain affiliate links. Please read my disclosure policy.