Must-Try, Super-Moist Zucchini Bread
This post may contain affiliate links. Please read my disclosure policy.
With its perfectly moist texture, super soft crumb, and brown sugar notes throughout, this is the best-ever (AND easiest!) zucchini bread recipe. The recipe is easily adaptable to mini loaf pans, and the batter can be used for zucchini bread muffins too, too.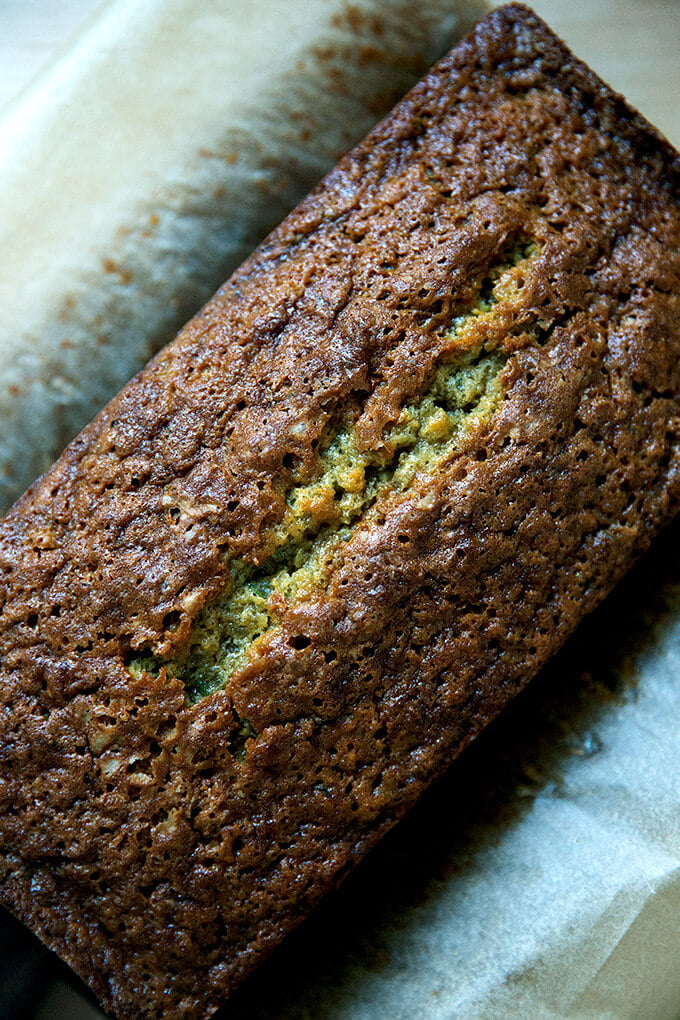 This is the best zucchini bread. The original source is unknown, but my mother learned it from her mother, and I've been passing it along as well, baking it with my children, who call it "bikini" bread, for years. It's an oldie but such a goodie, and a hit with adults and children alike.
In essence, its a classic quick bread made with both brown sugar and white, eggs and oil, and a heap of zucchini. The zucchini flavor is nearly indiscernible, but it plays an important roll in ensuring the cake will be super moist. This quick bread, a 2-bowl job, comes together in under 10 minutes and freezes beautifully.
What's more? It also can easily be turned into muffins, which also freeze beautifully, or baked in four mini loaf pans, which make great holiday gifts. I love serving this zucchini bread when entertaining — it's as delicious for mid-morning brunch as for afternoon tea all summer long.
Finally, The Kitchn, a favorite website, declared this recipe the best in a contest with four widely adored zucchini bread recipes. I hope you love it, too.
A favorite variation? Chocolate chip, of course. Nuts, too. Truthfully, I love it best with no additions. You can use as much as a pound — yes a pound! — of grated zucchini, and it along with the oil, keep the bread so, so moist.
More Recipes with Zucchini
PS: ALL the zucchini recipes right here → Zucchini
PPS: The Best-Ever Banana Bread.
Here's the play-by-play: Gather your ingredients: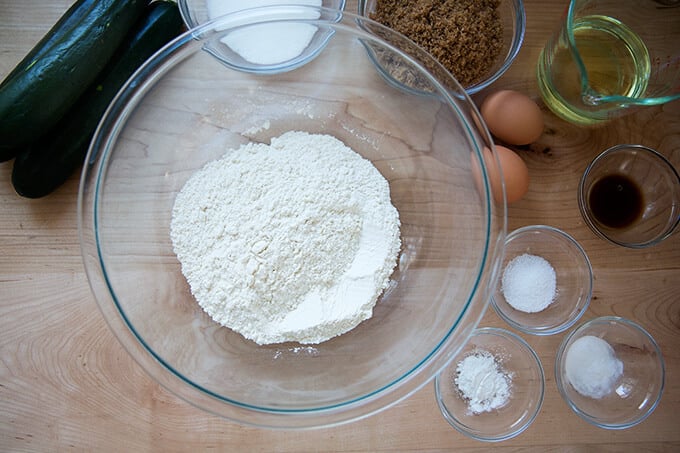 Grate a couple zucchini.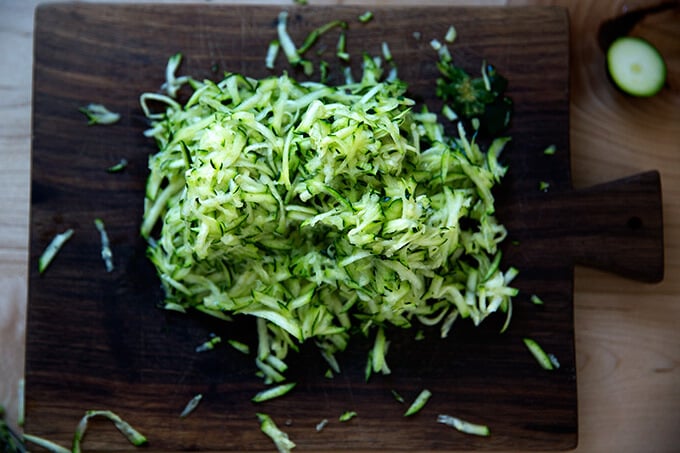 Stir together the dry ingredients. Stir together the wet ingredients.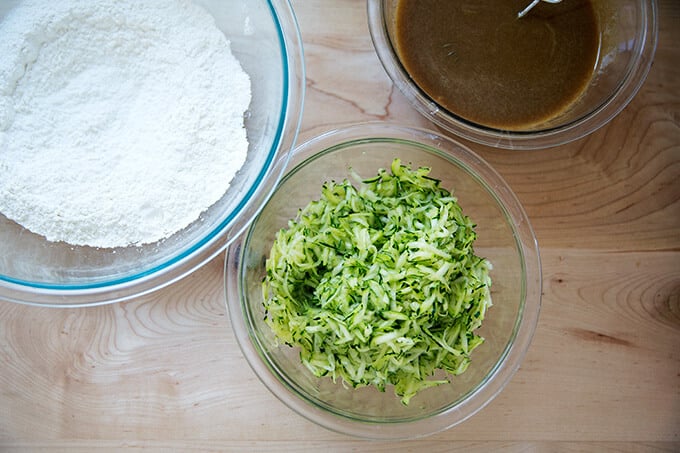 Toss the zucchini with the dry ingredients.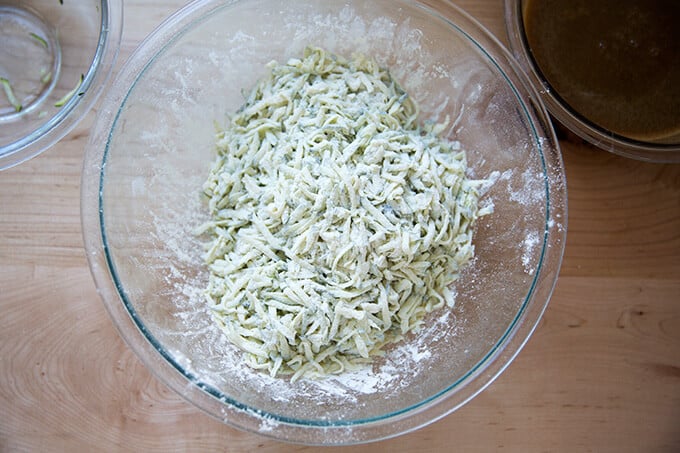 Add the wet ingredients.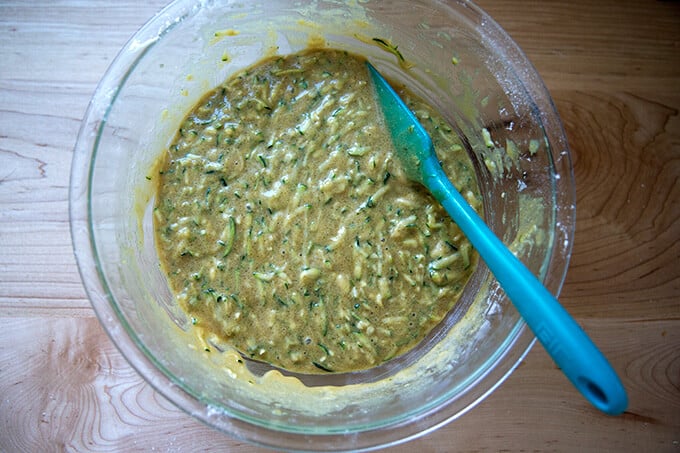 Transfer to a loaf pan.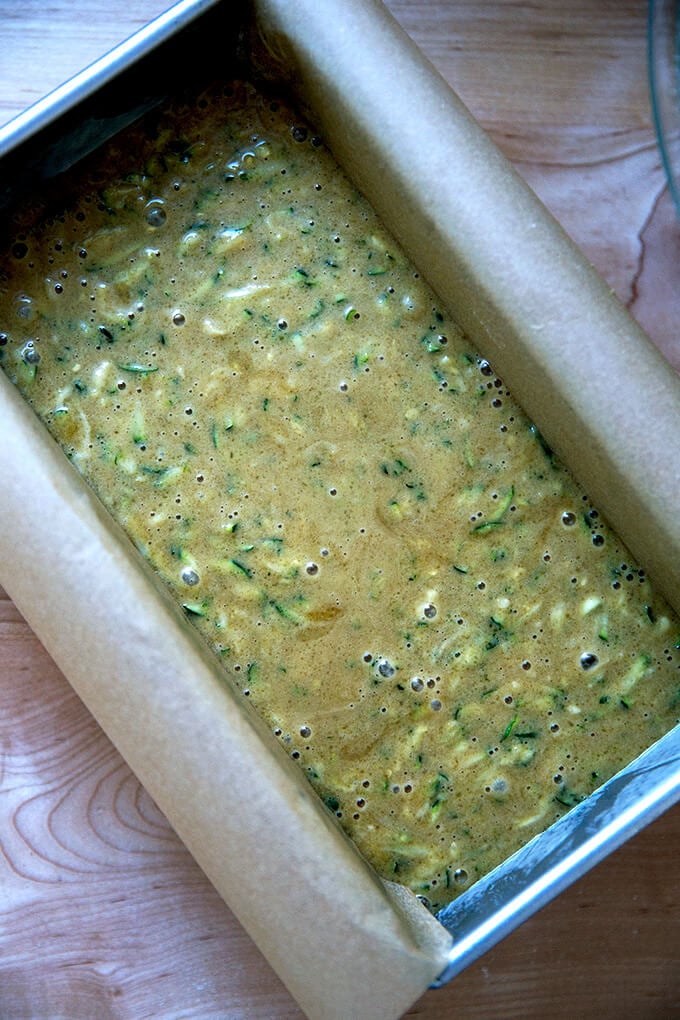 Bake until golden and cooked through.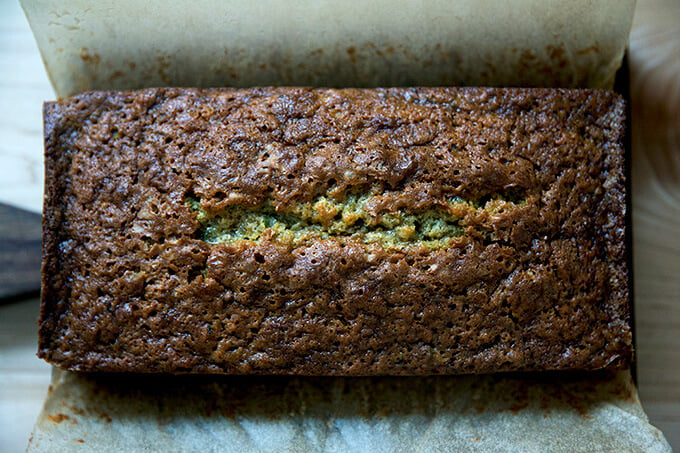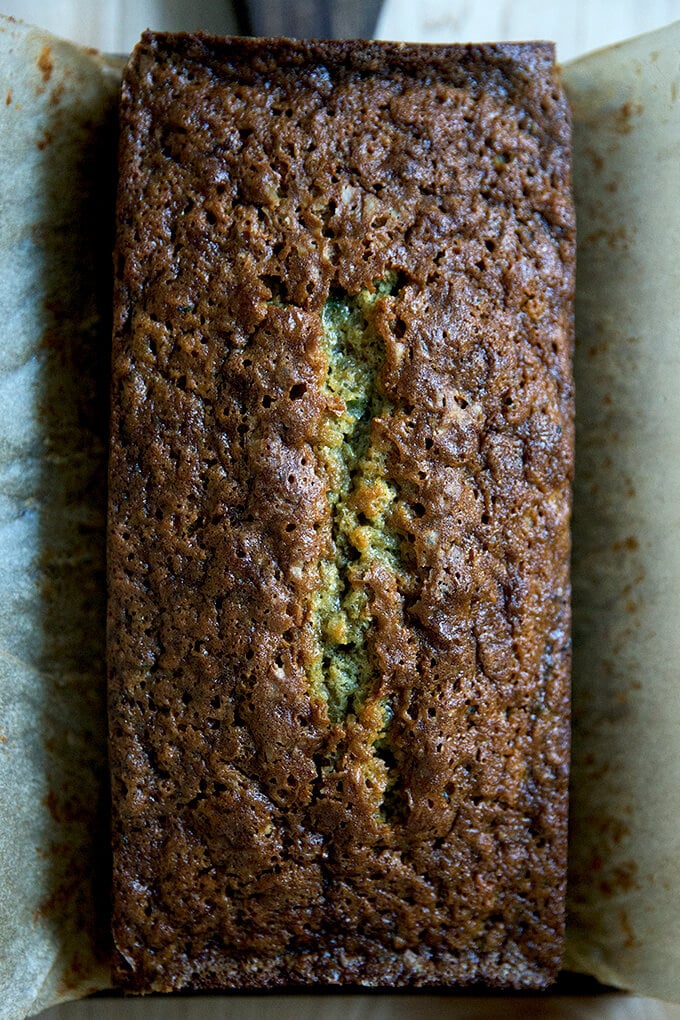 Let cool completely before slicing.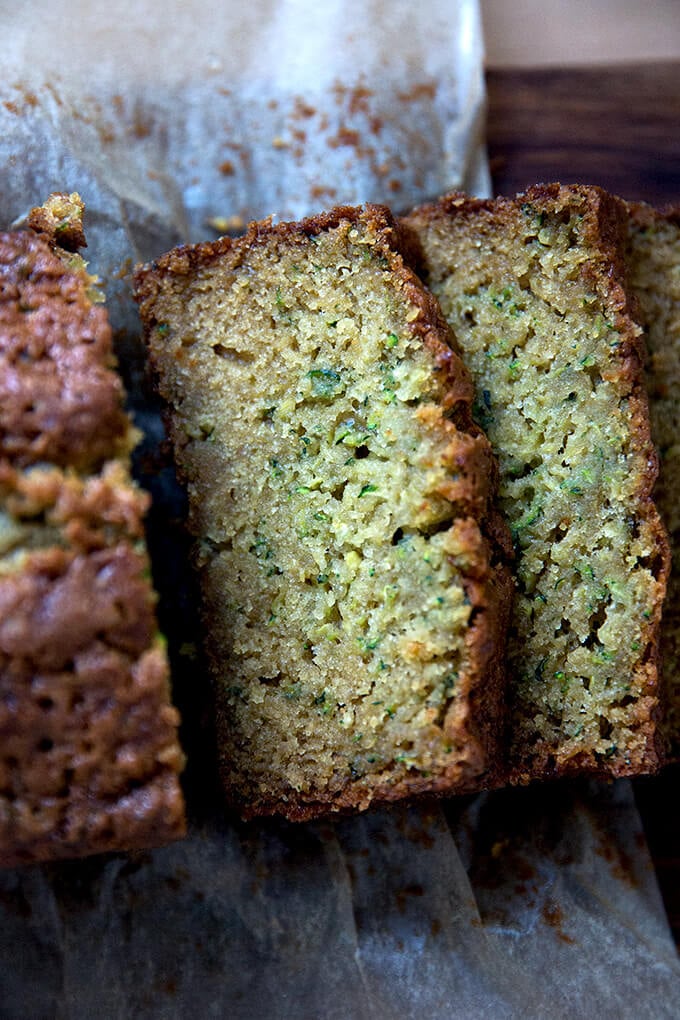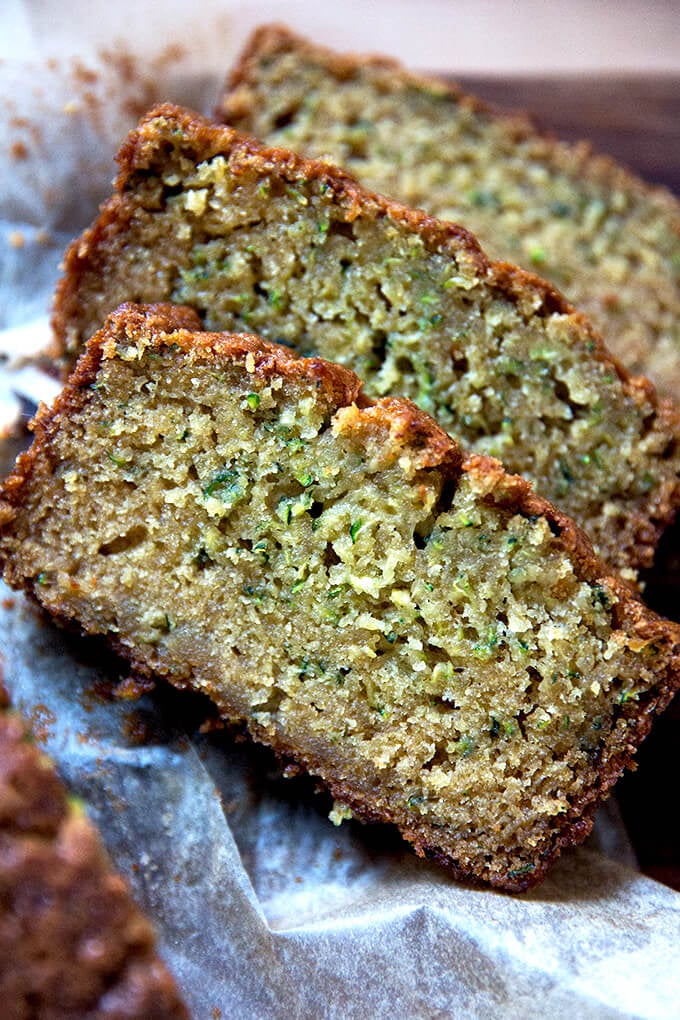 You can bake the bread in four mini loaf pans as well, which is so nice for gift giving.
Print
Must-Try, Super-Moist Zucchini Bread
---
Description
Notes:
Baking by weight is always a good idea.  Regarding flour, if you have a scale (this one costs $9!), weigh out 227 g flour. If you are using cups, use 2 cups, but fill them lightly.
Loaf pans come in all different sizes. I love these Chicago Metallic standard 8.5 x 4.5-inch loaf pans and these Chicago Metallic mini loaf pans, which are so handy to have on hand around the holidays. If you use as much as a pound of zucchini, I highly recommend baking this bread in a 10×5-inch baking pan — it's only slightly larger than the 8.5×4.5-inch pan, but it makes a difference. My quick breads bake so much more evenly in this larger-size pan. 
To freeze: Be sure to let zucchini bread cool completely. Wrap in foil; then tuck into an airtight bag. Freeze up to 3 months. Thaw overnight at room temperature. 
To make muffins: Simply, line a 12-cup muffin pan with liners or grease with butter or nonstick spray. Fill cups no more than two-thirds full. Bake for 18-22 minutes, or until a toothpick inserted comes out clean. 
---
a scant

2 cups

(

227 g

) flour (see notes above)

¾ teaspoon

baking powder

¾ teaspoon

baking soda

1 teaspoon

cinnamon, optional

1 teaspoon

kosher salt

1 cup

light (

213 g

) brown sugar

½ cup

(

100 g

) granulated sugar

¾ cup

vegetable oil

1 teaspoon

vanilla extract

2

eggs, lightly beaten

2½ cups

grated zucchini, (

12

–

16

oz.)
---
Instructions
Preheat the oven to 350˚F. Grease a 8.5 x 4.5-inch loaf pan or a 10 x 5-inch loaf pan if using as much as a pound of zucchini (see notes above). For easy removal, line the pan with a sheet of parchment paper that hangs over the edges. 
Whisk together first five ingredients. In a separate bowl, whisk remaining ingredients except zucchini. Add zucchini to the flour mixture and toss to coat. Add dry to wet and stir till until combined. Pour into pan. Bake until toothpick comes out clean, about 45 minutes to 1 hour. If you have an instant read thermometer, it should register 205ºF or above. (Note: Every oven is different, and different pans conduct heat differently —  be patient with the cooking. It may take 20-30 minutes more. With the longer cooking time, the bread shouldn't burn, but if you are noticing the bread getting too brown, cover it with foil.)
Let bread cool for 15 minutes in pan, then transfer to a cooling rack to cool completely before slicing. 
Prep Time:

10 minutes

Cook Time:

45 minutes

Category:

Bread

Method:

Oven

Cuisine:

American
Keywords: zucchini, bread, quick bread, squash, summer
This post may contain affiliate links. Please read my disclosure policy.