Simple, Classic Shortbread + A Ted Lasso Biscuit Box for Gifting
This post may contain affiliate links. Please read my disclosure policy.
When it comes to effort-to-reward ratio, it's hard to beat shortbread. This simple recipe calls for 5 ingredients, does not require a food processor, and yields a super delicious, rich and buttery cookie, perfect for gifting (or eating) all season long.
In October my dear neighbor turned 50. Knowing her love for Ted Lasso, I thought it would be fun to bake her some shortbread and pack it into a pink "biscuit" box. When I couldn't find anything suitable to order, I searched for one I could craft, which led me to this lovely website and template, which I promptly printed, cut out, taped, and stuffed with a few bars of homemade "biscuits".
As fun as it was to get lost in a little craft project, it was a bit of a pain, too — my flimsy printer paper couldn't quite handle a full sheet of pink ink, and it wasn't quite up for the box-making job either. As I pasted two sheets of paper together, I thought: Maybe I could have boxes made?
A little research led me to a site called Packola, which led to the creation of these Ted Lasso biscuit boxes, which you can order here. Boxes are sold in packs of 10 for $20. The simple shortbread recipe found below will be included. Shipping is free 🎉🎉🎉🎉
A Simple Classic Shortbread Recipe
When I set out to make a Ted Lasso "biscuit" recipe for my neighbor, I started with my favorite shortbread recipe: Melissa Clark's Rosemary Shortbread, an astonishingly simple recipe made in the food processor. I knew I would omit the rosemary and honey, and I knew I would sprinkle it, as Ted Lasso does, with some sort of sugar out of the oven.
But I thought about making another change as well: swapping out some of the flour for cornstarch or rice flour, a move that would give the shortbread more of that melt-in-your-mouth texture. I referenced many recipes — Tartine's, Milk Bar's, Bouchon Bakery's, The New York Times — all of which at their core are similar, the makeup being nearly equal parts by weight butter and flour, a smaller amount of sugar, a bit of salt, and sometimes some sort of starch.
What I found through my experiments is that swapping out some of the flour for cornstarch indeed led to a very tender and finely textured cookie. But what I also found, is that I actually prefer the density and richness of a shortbread cookie made without any starch.
In the end, the recipe below is simply Melissa's without the rosemary and honey but with a splash of vanilla, which, I know, for some people is sacrilege. If you are using really good butter, I understand this logic — shortbread should be all about that really good butter and not clouded by other flavorings. But if you are not, I don't see the harm, and I find the addition to be nice. Simply omit it if you are a shortbread purist.
One final note: The below recipe does not call for a food processor. Through my experiments, I found myself really liking Tartine's mix-by-hand method. You will need room temperature butter, but if your butter is not very soft — as in mayonnaise soft — you can do what Tartine suggests: melt a small amount of it; then mix the melted butter with the softened butter. It works likes a charm!
I have made this shortbread recipe both ways — food processor and by hand — and I find there to be no difference in the texture of the cookie in the end. And as much as I love using my food processor, it's nice having an alternative method. Find both methods in the recipe box below.
PPS: Easy, Festive (and Boozy!) Rum Balls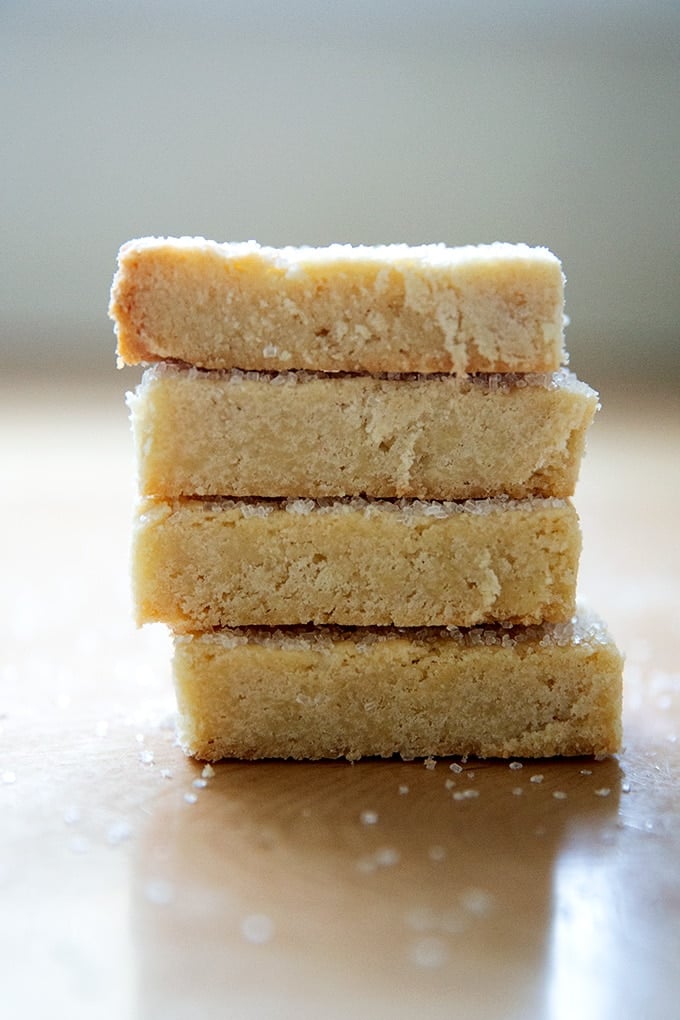 How to Make Simple Classic Shortbread, Step by Step
First, gather your ingredients:
If your butter isn't super soft — as in mayonnaise-y soft — you can melt 2 tablespoons of it…
… then stir it into the softened butter to combine. It really helps the butter transform into that very soft, whipped texture.
Add the salt and stir to combine.
Then add the sugar and vanilla and stir again.
Finally, add the flour:
Stir until the mixture forms a crumbly dough:
Pat the dough into an 8- or 9-inch baking dish:
Then smooth with a bench scraper, if you wish:
Transfer to the oven for 35 minutes:
Sprinkle with sparkling sugar (or superfine or granulated), if you wish, then let cool for 30 minutes. Cut the shortbread with a knife while it's still warm. It can stay in the pan for several hours (and even overnight) after this point, but it's important to cut it while it's warm. I find the shortbread to be even better on day two.
Pack into pink boxes, if you wish.
There are 10 boxes to a package. $20. Free Shipping.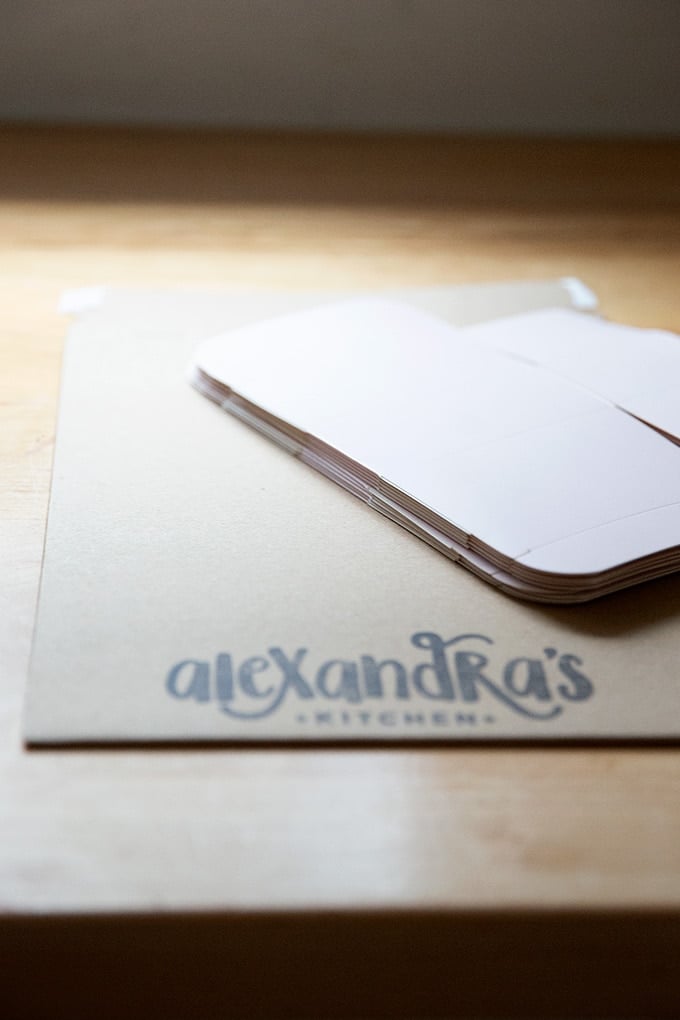 Print
Simple, Classic Shortbread
---
Description
Adapted from this rosemary shortbread recipe via Melissa Clark.
Here, the rosemary and honey have been omitted, and I'm using a different method that does not require a food processor. If you wish to use a food processor, you'll want your butter to be cold. Follow this method: Pulse together flour, sugar, and salt. Add butter, and pulse to fine crumbs. Pulse a few more times until some crumbs start to come together, but don't overprocess. Dough should not be smooth. Then skip to step 2 below.
---
1 cup

 (

227 g

) unsalted butter, room temperature

1 teaspoon

 (

5 g

) kosher salt

2/3 cup

 (

134 g

) granulated sugar

1.5 teaspoons

 vanilla, optional

2 cups

 (

256 g

) all-purpose flour
sparkling sugar, superfine sugar, or granulated sugar, for sprinkling, optional 
---
Instructions
Heat oven to 325ºF. If your butter is not very soft, melt two tablespoons of it. Place the remainder in a large bowl. Pour the melted butter into the bowl; then stir with a wooden spoon to combine or until the butter is the texture of mayonnaise. Add the salt and stir to combine. Add the sugar and vanilla if using; then stir again to combine. Finally, add the flour and stir just until the flour is absorbed — the dough will still be lumpy.
Press dough into an ungreased (or parchment paper-lined for easy removal) 8- or 9-inch-square baking pan. Bake until golden brown, 35 to 40 minutes for 9-inch pan, 45 to 50 minutes for 8-inch. Transfer to a wire rack to cool. Cut into squares, bars or wedges while still warm. Sprinkle with a tablespoon or two of sparkling, superfine, or granulated sugar, if using.
Prep Time:

10 minutes

Cook Time:

35 minutes

Category:

Dessert

Method:

Oven

Cuisine:

American
Keywords: simple, classic, shortbread, Ted Lasso
This post may contain affiliate links. Please read my disclosure policy.